Now that April has zoomed by so quickly, it's time again for my official Blog Income Report blog post again.
This month I started putting a lot more time, energy and resources into getting my health and fitness plan in motion, but that didn't stop me from cranking out yet another 30 blog posts in 30 days.
Blog Content Report – April 2015
Here is a recap of all the blog posts I wrote this month:
As in the previous months, I once again participated in the 21 Day Blogging Challenge put on by Empower Network, which is available to all bloggers regardless whether they are a part of Empower Network or not.
The 21 Day Blogging Challenge is a great way to build the habit of daily blogging.  I highly recommend it to anyone just starting out or for existing bloggers who are ready to take things to the next level.
Blog Traffic Report – April 2015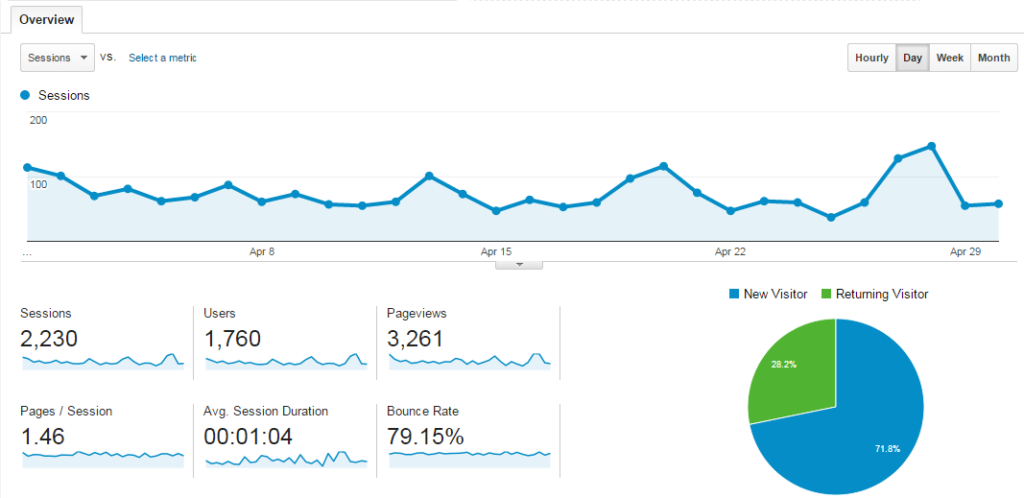 In this fourth month of running this new blog, here are some of my stats for the month of April 2015:
Total Users: 1,760
Total Sessions: 2,230
Total Pageviews: 3,261
Avg Session Duration: 1 minute 04 seconds
Although these stats show a decline in my numbers as compared to March, I know one of the major reasons for this is because I have not been emailing out all of my Blog posts to my email list every day.
I've been experimenting with emailing my list less often versus emailing every day to find out what is the best emailing frequency that people like.
Now let's take a look at where my traffic has been coming from.
Blog Traffic Sources Report – April 2015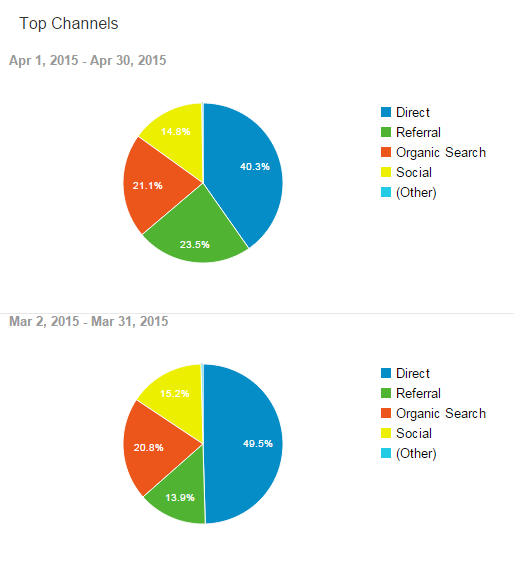 As you can see from the charts above, my blog traffic distribution changed this month due to the less frequent emailing of my list.
Direct Traffic – 898 sessions – 40.3%
Social Traffic – 330 sessions – 14.8%
Referral Traffic – 525 sessions – 23.5%
Organic Search Traffic – 471 sessions – 21.1%
Now for the fun part. 🙂
Blog Income Report – April 2015
Okay, so let's get to the actual blog income report part of this post.
Before I start talking numbers though, just a quick income disclaimer.  My results are not typical, not guaranteed in any way, and you should check out my income disclaimer if that sort of thing floats your boat.
Okay, now that we got that out of the way, here are my stats:
Total Gross Income –
$3,094.32
Affiliate / MLM Income: $479.15
Advertising Income (Ad Sales, AdSense, YouTube etc.): $4.07
Mentoring / Consulting Income: $2600.00
Total Expenses –
$879.81
Net Income:

$2,214.31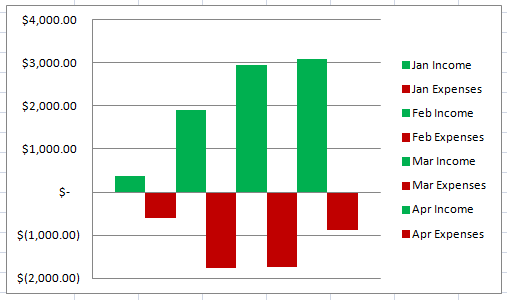 Alright, so let's dive into what has been happening this month.
Affiliate Income
My affiliate income this month jumped up to $479, which is exciting as affiliate income is my favorite type of income due to the fact that it can have a passive component to it.
If you'd like to learn how to build up your affiliate income, check out my previous income reports where I've covered this topic in more detail, and also check out this video here.
Mentoring / Consulting Income
My mentoring and consulting income was the same as last month and continues to be my highest income stream right now from my Blog.
What most Bloggers don't realize is that one of the BIGGEST benefits to starting a Blog is that it can help you get consulting / coaching / mentoring clients.
In my opinion EVERYONE should have a Blog regardless what type of business you're in.
Check out my post on Who Should Blog and Why for a detailed list of people who would benefit most from a Blog.
Now, let's briefly touch on my expenses for this month.
Expenses
As you can see from my report above, my expenses for this month have actually dropped while my income has gone up!
This is because a lot of the initial expenses I had for getting my Blog started are ONE TIME initial expenses.
As an entrepreneur you may have to invest in your business, especially in the beginning.
You don't need to overspend on useless crap, but investing into your business strategically, such as buying training courses or getting mentored by the top people in the industry is a great way to get your business growing faster.
I meet so many young entrepreneurs who haven't learned this lesson yet, and they're so afraid to invest any money into their business.
They want everything for free and they have this entitlement mentality that just leads them to failure.
Don't be afraid to invest in yourself and your business.
You will most likely never find a better investment that pays higher dividends long term than investing in yourself.
My Blogging Goals for April
Here were some of my main goals for April:
Participate in my 4th 21 Day Blogging Challenge –

Check!

Continue on with daily blogging –

Check!

Test different email frequency for my audience –

Check!

Research and test out free traffic strategies –

Check!

Record 10 "Driving With Paul" Episodes –

Check!

Increase my Blogging business profits –

Check!

Grow my Empower Network Team and Income –

Check!

Launch my "Manifesting Body Diet and Fitness Plan" and Start Blogging About It –

Check!
Summary
To summarize, my blogging income has continued to grow pretty steadily each month and with some of my initial one-time expenses out of the way, my net profit from my Blog is starting to go up which is exciting.
Some of you may also remember that back in January I wrote a post declaring my intention to build up my blog business income up to the point where I can get a Free Car from Blogging.
Obviously I've now blown past that goal, and I can afford a new car with my Blog, so I'll be writing an update Blog post sharing my intentions with that very soon.
Keep an eye out for that. 🙂
Final Words
One of the reasons I decided to put together these monthly income reports is because I want to inspire others – LIKE PERHAPS YOU! – to consider starting a Blog today and using it to build your own brand, and to start making some extra income from it.
One of my personal goals is to teach / mentor and help 108 people to make a full-time six-figure income working from home as Bloggers and Internet marketers.
If you'd like to learn more about getting started with making money online, click here to learn more.