I'm a few days late, but here is yet another Blog Income Report – this time for the month of June 2015.
If you'd like to learn how I make money blogging, click here to learn more.
Blog Content Report – June 2015
Here is a recap of all the blog posts I wrote this month:
Again this month I've maintained my pace of writing one post per day for a total of 30 posts in the month of June.
Blog Traffic Report – June 2015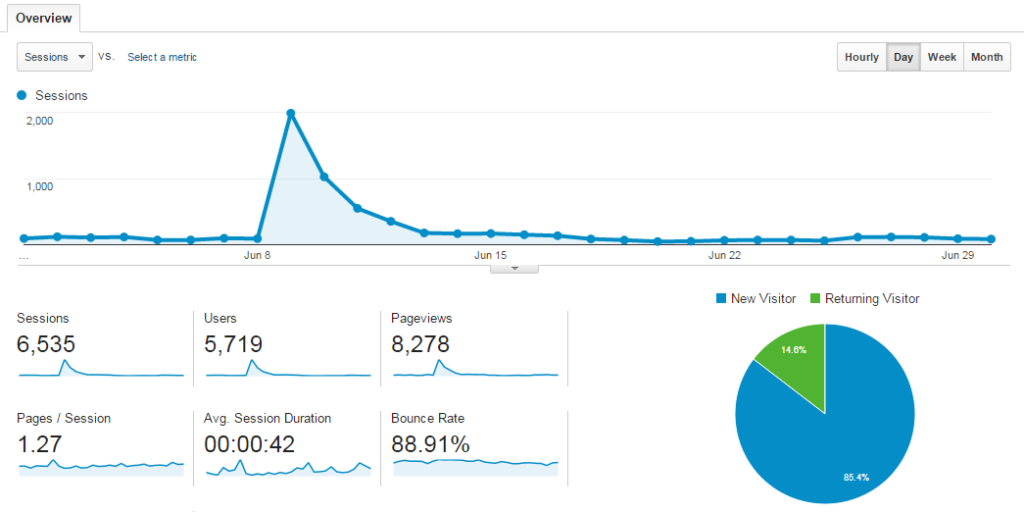 In the month of June I had a huge increase in my traffic as compared to previous months due to one of my blog posts going viral.
The traffic spike you see on June 9th skyrocketed my traffic for a few days as the post was shared around the Internet.
My other stats look low but they're not.  They just look low as the graph's scale changed with the traffic spike that shot my session numbers up to 2,000 visitors in one day.

As you can see in the number above I had over 200% more users in June as compared to May, primarily due to this traffic spike, but of course all my other blog posts also contributed to the number as well.
Here are my traffic stats for June 2015:
Total Users: 5,719
Total Sessions: 6,525
Total Pageviews: 8,278
Avg Session Duration: 42 seconds
Now let's take a look at where my traffic has been coming from.
Blog Traffic Sources Report – June 2015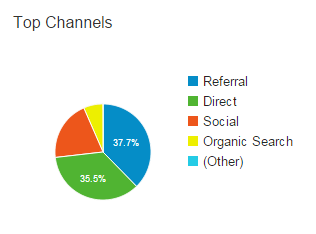 My blog traffic distribution changed this month with both Direct and Referral traffic going up significantly compared to the other channels.
Direct Traffic – 2,319 – 35.5%
Social Traffic – 1,325 sessions – 20.3%
Referral Traffic – 2,463 sessions – 37.7%
Organic Search Traffic – 425 sessions – 6.5%
And here is a 6 month chart of my monthly traffic since I've started using the Kalatu Blogging Platform:

Now for the fun part. 🙂
Blog Income Report – June 2015
Okay, so let's get to the actual blog income report part of this post.
Before I start talking numbers though, just a quick income disclaimer.  My results are not typical, not guaranteed in any way, and you should check out my income disclaimer if that sort of thing floats your boat.
Okay, now that we got that out of the way, here are my stats:
Total Gross Income –
$3,341.66
Affiliate / MLM Income: $732.20
Advertising Income (Ad Sales, AdSense, YouTube etc.): $9.46
Mentoring / Consulting Income: $2600.00
Total Expenses –
$943.11
Net Income:

$2,398.55
Alright, now that we've gotten the stats and numbers out of the way, let's dive into what's actually been happening in more detail.
Affiliate Income
Once again my affiliate income increased again this month jumping from $598 in May to $732 in June with the biggest portion of that coming from my income from Empower Network.
As I've mentioned in previous posts, seeing this number going up is the most exciting part of my income for me because it represents my Empower Network's team growth which is my main long term goal for this blog.
Don't get me wrong, I love consulting income as well, which makes up the majority of my income, but 1-on-1 consulting work can never be as scalable as leveraged income from something like Empower Network.
I'm really excited to keep seeing growth in this are of my monthly income.
If you'd like to learn more about Empower Network and how I make money with it, click on this link here to learn more.
Mentoring / Consulting Income
Not much has changed with my consulting income this month.
I still haven't decided whether or not I want to take on any more consulting clients in the future as I want to primarily focus my time and energy on growing my Empower Network team.
Expenses
My expenses this month did go up slightly with a few domain renewals I had to get done and some consulting services I invested in, but outside of that they've been pretty stable.
My Blogging Goals for June
Here were some of my main goals for June:
Complete another month of daily blogging –

Check!

Keep my diet & fitness plan on track –

Check!

Launch a new team membership site for my Empower Network Team –

Check!

Continue to grow my Empower Network team –

Check!

Take on at least 5 mentoring students within my Empower Network Team –

Check!
Summary
To summarize, my blogging income continues to slowly grow at a steady pace and I'm really looking forward to seeing my Empower Network income starting to grow at a more exponential rate as I mentor and teach my team-mates how to make money with their blogs as well.
If you'd like to join my Empower Network team and get mentored by me on how to make money by blogging, click here to learn more.