It is time again for another Blog Income Report – yaay!
I enjoy doing blog income reports as a way to help inspire others who are thinking about starting a blog about their passions.
I think the more people out there who share their blogging income results, the more people will be inspired.
If you've been enjoying the income reports, take a few months after reading this report to leave a comment and let me know!
Blog Content Report – May 2015
Here is a recap of all the blog posts I wrote this month:
Once again this month I've been able to maintain my pace of writing one blog post per day for a total of 31 blog posts in the month of May.
Blog Traffic Report – May 2015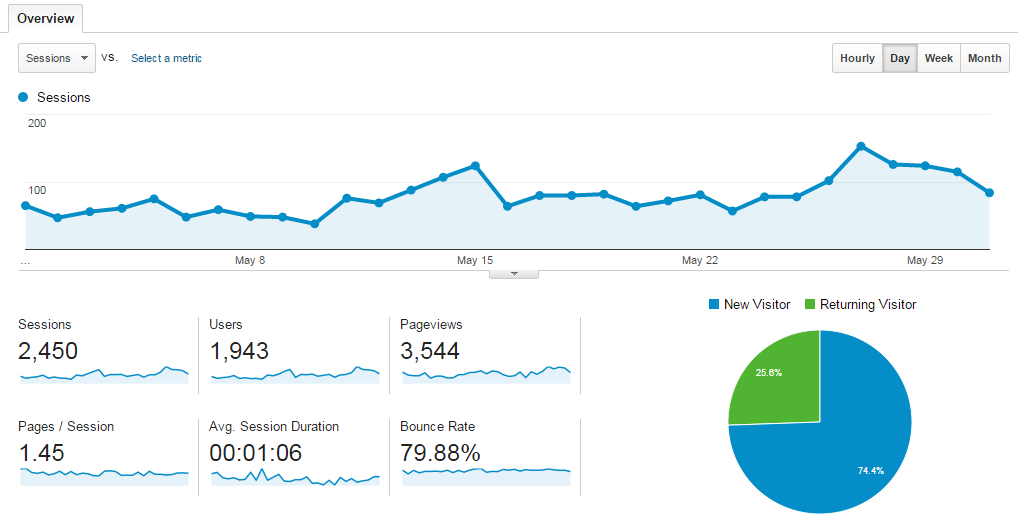 In the month of May I had a slight increase in my traffic as compared to the month of April.  Here are my traffic stats for May 2015:
Total Users: 1,943
Total Sessions: 2,450
Total Pageviews: 3,544
Avg Session Duration: 1 minute 06 seconds
Besides blogging on a daily basis and emailing my email list and posting my blog posts on facebook I haven't really been putting a lot of focus on growing my traffic, so I'm happy with even just a slight increase in my stats.
In future moths if I decide to put more focus towards growing my traffic stats, then we should see more drastic increases.
Overall my traffic this month was up by approximately 9% as compared to last month.
Now let's take a look at where my traffic has been coming from.
Blog Traffic Sources Report – May 2015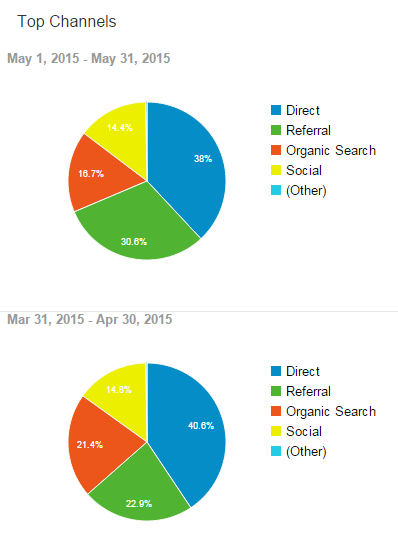 My blog traffic distribution was pretty similar to last month, with just a few slight changes.
Direct Traffic – 932 sessions – 38%
Social Traffic – 353 sessions – 14.4%
Referral Traffic – 749 sessions – 30.6%
Organic Search Traffic – 409 sessions – 16.7%
Now for the fun part. 🙂
Blog Income Report – May 2015
Okay, so let's get to the actual blog income report part of this post.
Before I start talking numbers though, just a quick income disclaimer.  My results are not typical, not guaranteed in any way, and you should check out my income disclaimer if that sort of thing floats your boat.
Okay, now that we got that out of the way, here are my stats:
Total Gross Income –
$3,209.51
Affiliate / MLM Income: $598.01
Advertising Income (Ad Sales, AdSense, YouTube etc.): $11.50
Mentoring / Consulting Income: $2600.00
Total Expenses –
$697.81
Net Income:

$2,506.20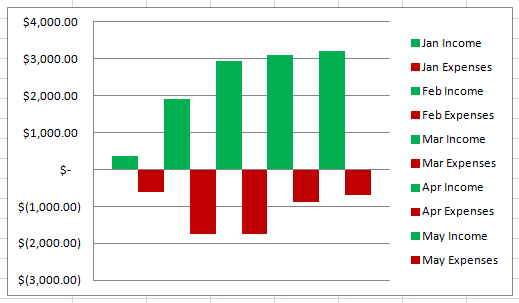 Alright, now that we've gotten the stats and numbers out of the way, let's dive into what's actually been happening in more detail.
Affiliate Income
My affiliate income increased again this month jumping up to $598.01, so just a few dollars short of $600.
A large portion of that, about $518 worth, came directly from my income from Empower Network.
This is by far the most exciting income stream for me because it represents long term passive income to me.
This is also the income stream with the most potential to grow and scale up in the near future.
As much as I love consulting income, it is difficult to scale that up as there are only so many hours per week that I can devote to doing coaching / mentoring / consulting.
With my Empower Network income, however, it's virtually unlimited in potential as the income has the potential to scale up without much more effort on my part.
If you'd like to learn more about Empower Network and how I make money with it, click on this link here to learn more.
Mentoring / Consulting Income
My mentoring and consulting income was the same as last month and continues to be my highest income stream right now from my Blog.
One of the benefits of running a blog that many don't realize is that you can use your blog to promote your own products or services.
Many people think that the only way to monetize their blogs is by having banner ads or affiliate links on their sites, but you can actually also make a really good income by providing products and services for sale on your blog.
Expenses
My expenses this month were very similar to last month.
Very few changes.
I do plan on cutting out a few more expenses for services and products I've been testing for a few months that I don't need anymore.
My Blogging Goals for May
Here were some of my main goals for May:
Participate in my 5th 21 Day Blogging Challenge –

Check!

Continue on with daily blogging –

Check!

Research and test out free traffic strategies –

Check!

Record More "Driving With Paul" Episodes –

Check!

Increase my Blogging business profits –

Check!

Grow my Empower Network Team and Income –

Check!
Summary
To summarize, my blogging income continues to grow pretty steadily and I'm especially excited about the growth of my Empower Network income.
My Empower Network team is starting to grow and my team-mates are also starting to generate income from their blogs.
If you'd like to join my Empower Network team and learn how to make money by blogging, click here to learn more.