Microsoft is about to change the way we use computers… forever.
Their new Windows 10 HoloLens technology is about to introduce the world to holographic computing.
Haven't heard of HoloLens or holographic computing?
Don't feel bad, it JUST came out.
Watch this now:
As you can see, this technology is going to change the way we use computers in every way.
So how is this going to change the way we Blog?
Blogging for Microsoft HoloLens Technology
Microsoft's vision for this new technology is to change the way that we communicate with each other over the Internet.
No longer are we going to be limited to staring at a flat computer screen, tablet or telephone.
We will now be able to take our computer screens with us, wherever we want.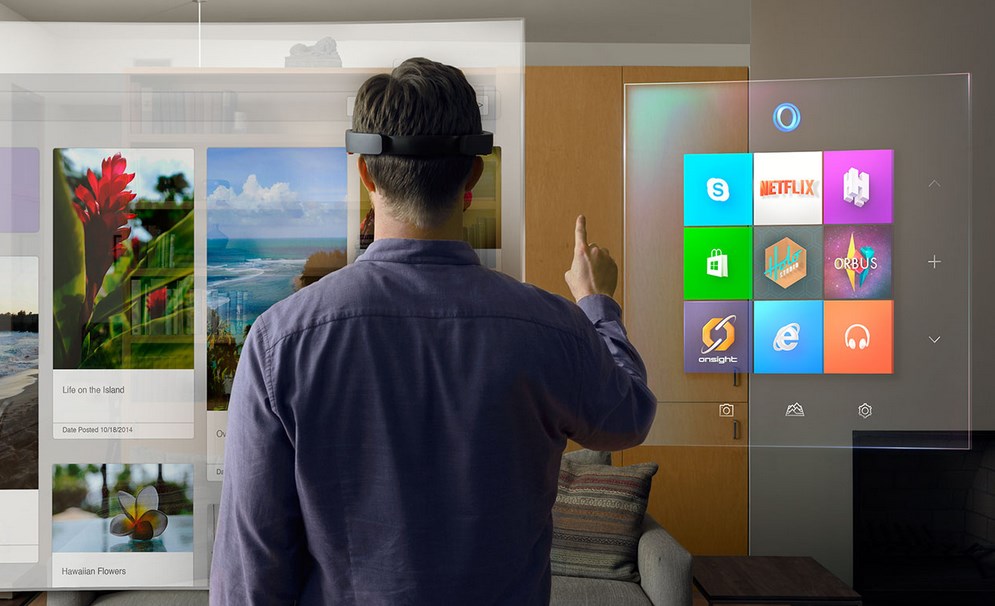 Imagine walking around the house and at the same time watching a floating YouTube video from your favorite Blogger…
Or imagine that you accidentally dropped your ring in the bathroom and it fell down the sink drain.
You will now be able to watch a "HOW TO" video showing you exactly how to do it as you're doing it!
Or, even connect with an expert who can walk you through it LIVE, while you're doing it and even draw little arrows and annotations to show you exactly what to do.
There are just a few examples of what will soon be possible with this technology
Obviously this new technology is going to revolutionize a lot of industries.
I can totally see the video game industry being totally changed by this.
But what about the Blogging industry?
Well, the way I see it, this new technology is going to make Blogging a LOT better and even more important than ever before.
For example, let's say that you've got a cooking blog where you share recipes and make short videos showing people how to cook something.
Right now in order to consume your content most people would have to either sit in front of their computer to watch your video, or perhaps stand in the kitchen holding their cell phone or tablet up and watch you make the recipe.
Then, once they watch the whole video they would attempt to make it since they can't really be following along and watching at the same time.
I mean it's possible, but very inconvenient as you have to be either sitting in front of a computer or holding a device.
With the HoloLens technology a person will now be able to cook and at the same time watch your YouTube video or see your recipe floating right in front of them!
I think this is going to allow people to consume MORE content MORE OFTEN throughout the day, without being strapped down to sitting in front of a computer.
What does this mean for Bloggers?
Well, all the technology companies out there like Microsoft and Apple and Google and Facebook can come up with all the technology they want, but the thing that DRIVES their technology is always CONTENT.
As Bloggers, we are the ones CREATING THE CONTENT.
And as content creators, we will always be in demand.
With this technology and similar ones that I'm sure will be released from the other players in the market, the demand for high-quality content from Bloggers has just gone up BIG TIME!
I think VIDEO content especially will benefit from this.
Someone will now be able to go to the gym, and while running for 30 minutes on the treadmill they'll be able to watch a YouTube video you created as a Blogger.
Basically, anywhere people are now consuming audio content by plugging their headphones in, they will now be able to consume video content…
… so the way I see it is that the demand for content – especially video content is about to skyrocket.
This is very exciting for Bloggers as it'll give us yet another medium of communication that we can better communicate and help our target audience.
I'm excited about this, how about you?