In yesterday's weight loss challenge update post, I promised that today I would reveal my new diet.
So here we go…
The diet I started today is the Dr. Bernstein diet.
The Bernstein diet is essentially a combination of the following:
A calorie reduced diet based on tracking portions of proteins, vegetables, breads and fruits
An accountability system with 3x/week visits to the clinic
Monitoring of your progress by a doctor to customize the diet to your specific needs / situation
A 2-phase diet approach with a short-term "weight loss diet" followed by a long term "maintenance diet"
A support system to help you stay on track
The first time I heard about the Bernstein diet was when a co-worker of mine went on it years ago and lost a lot of weight in a very short period of time.
Back then I was just getting started on my advanced nutrition diploma studies so I didn't really look into this diet in any great depth since I figured that I would just put together my own diet after completing my studies.
Also, I heard from someone that this diet requires you to go into a doctor's office three times a week to get some kind of injection, which sounded like some kind of pharmaceutical approach to me which I have no interest in.
I actually have heard of a few other people getting really good results on this diet since then, but my unconscious mind just filtered it out as a possible diet to look at – most probably due to the whole injection thing.
As I mentioned in yesterday's post, it was actually my intuition that made me re-consider this diet.
Last week I asked my intuition to show me the diet that it would "green light" for me to go on.
Shortly thereafter I found myself stopped at an intersection, waiting for the red light to turn green.  As soon as the light turned green I looked across the intersection where a bus had just pulled up in front of me.
On the back of that bus was a giant ad for Dr. Bernstein's Diet & Health Clinic.  As soon as I saw the sign I knew this was my answer.
I was rather surprised by this though, because I had previously misjudged this diet as "crap" without really knowing anything about it.
My intuition was basically saying, "Yup, this is it" while my rational mind was thinking "What?  Really?!  This thing?  Seriously?"
So I went home and started doing a whole bunch of research on it – honestly, more than anything to find something wrong with it. 🙂
But after almost a week of research I found nothing wrong.  In fact, quite the opposite.  I really like this diet!
Dr. Bernstein Diet Costs
During my research, one of the main downsides that people talked about in respect to this diet is the costs associated with going on it.
The cost to go on this diet are approximately $600/month (not including food).
When people first hear about this, they freak out.  I know I was a bit shocked at first as well.
However, there are two main things to consider with this.
Firstly, you can't just look at the cost of the diet alone.  We must consider how it will affect your food costs as those two things are interlinked.
For example, previous to going on this diet, my typical expenditures for food might look something like this:
Breakfast – Skipped
Lunch – McDonald's Big Mac Combo & 4 piece Nuggets – $10 (all $ values are approx)
Afternoon Snack – Small Bag of Chips & Pop – $3
Dinner – Restaurant Meal & Pop + Tip – $23
Late Night Snack – $4
That adds up to $40/day.  Now I don't eat like this every day, but more often than not I'd be snacking and eating all the time trying to keep up with my cravings.
Junk food is NOT cheap.  Even if my daily food costs aren't $40/day every day, I do know that sometimes it's even more than that and other days it might be $30.
Let's say that it's $35/day average.  That's approx $1,000/month for food, soft drinks etc.
Now, when you stop eating crap like that, and  you start cooking your meals at home, things get a lot less expensive.
After briefly looking at the Bernstein diet menu, I would estimate that it will cost me less than $10/day for food.
So really, I will be saving approximately $25/day in food costs, which comes out to $750/month.
What that means is that if my estimates above are correct, I will actually be saving $150/month by going on this diet.
Secondly, even if you're not spending $35/day on food (even though I think a lot of people do but are in denial about it), we also have to consider the fact that this diet is NOT a long term diet.
The $600/m costs are only there during the "weight loss" phase of the diet, which may only last a few months.
The average weight loss that people experience on this diet is around 0.75lbs/day.  That means that you can lose around 20lbs in one month.
If you're 40lbs overweight, that means you could potentially lose that weight in just 2 months.
And here's the thing.  Once you lose the weight, and go on the "maintenance" phase of the diet, your costs for the diet drop but your savings continue – hopefully for the rest of your life.
So the way I see it, for anyone who is currently eating crap food at home, or at restaurants, this diet will not cost you anything.  In fact it will save you money.  Short term you'll probably break even on your total food/diet costs.  But long term you'll probably save a LOT of money.
What About the Injections?
As I mentioned above, when I first heard about this diet I was turned off by the idea that you have to go in and get injections 3x/week.
The reason for this is because I thought this was some kind of drug or hormone or some other unnatural thing they were using to promote the rapid weight loss.
After I did some research though I found out that it's nothing more than Vitamins B6 & B12.
The program promotes supplementing your diet with multivitamins and minerals.  Most of the vitamins you can take in a capsule form.  However, for the B6 & B12 vitamins which are especially beneficial for the body during weight loss – it is much more efficient to administer them as an injection, instead of orally.  That's all.
I haven't done enough research yet on just how much more efficient Vitamin B is as an injection versus taken orally, but either way I'm sure there's some benefit to it.
So while on this diet, as you go into the clinic three times per week to do your weigh-ins and to go over your meal plans and urine tests, they do the Vitamin B6/B12 injection as well.  It takes 3 seconds and is relatively painless.  No biggie.
My First Appointment
For now I'm not going to bother diving into how the diet works, or the theories behind it or how it compares to other diets.
Instead I'd rather describe what it's like to get started on this diet for anyone who decides to try it out.
The diet starts with a 1.5 hour consultation.  The consultation was split into three parts.
When I first got there with my pre-filled "New Patient Forms" (they send them to you before), the lady entered all my information into their computer systems to create my account.
The initial 1.5 hour consultation is $315, which pays for your "Starter Kit" and your first week's worth of visits & injections.  As part of going onto this diet, once you reach your target weight loss goal, you will be placed onto the "Maintenance Diet".  As part of your initial fee, you also receive one month free of the "Maintenance Diet" (including visits and injections).
After this initial consultation, it costs approximately $150/week for your three visits, injections and doctor's consults.
From my understanding, some extended health plans do cover a portion of this diet.
After creating my account in their system, the first part of the consultation is you basically reviewing your medical history with the nurse.
Since mine was relatively simple, this was a short visit.  Some people do bring in a whole bunch of medications they are currently taking, so I'm sure those might be discussed during this time.
The nurse takes your blood pressure and asks some specific questions related to your weight, diet, previous weight loss attempts etc.
Once that is done, you then go into a room where there is a group session with the nurse.
During mine there were three other people besides me joining the program that day.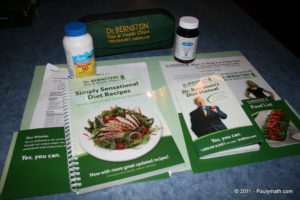 The group session basically goes over everything in your "Starter Kit", teaches you the basics of the diet, what to eat, what to drink and gives you the opportunity to ask any specific questions you might have.
Since I did a whole bunch of research on the diet ahead of time, a lot of what was covered was pretty basic for me, but I can see how this part of the session would be very helpful to those who know nothing about the diet going in.
Once the group session is over, you once again have a private consult with the nurse where you have an opportunity to ask any questions you didn't ask during the group session and you are then given your first Vitamin B6/B12 injection.
The other thing they do while you're there is take your starting weight, height and set a two-week goal for you.
My starting weight today was 213.8 lbs (with clothes, but no shoes) and my two-week goal is between 203.8 lbs – 206.8 lbs which is basically a weight loss of 7-10lbs in 2 weeks.
We'll have to wait and see what happens.
The Diet Itself
The diet itself is pretty simple to follow, compared to other diets I've followed in the past.
The "Starter Kit" comes with a recipe book full of recipes you can eat on the diet.
Your available food choices are broken down into proteins, vegetables, fruit and bread alternatives.
You eat 2 servings from each group.  However, the servings for each food group are different.
For example, 1 serving of protein is 3.5 oz (100g) but 1 serving of vegetables is 8oz (230g).  So even though you're eating 2 servings of each, you're eating more than double the amount of vegetables.
There are so many different ways to put together diets.  Some diets use calories to track things, others portions, and others create a "points" system.
I kind of like how this diet just tells you what a serving size is for each food group and then you just eat 2 servings.  It's pretty simple.
Also, I've been on other diets before where pretty much all fruit was "banned" off the diets.
With this diet you get 2 servings of fruit per day, which I think is pretty cool.
The Sugar Monster
I've done enough diets now to know all about the "Sugar Monster".
What is the "Sugar Monster" you ask?  Well, it's pretty simple.
We're all addicted to sugar / simple carbs.
Unless you've specifically gone through and eliminated your sugar / simple carb addiction, then you're addicted.
Sugar is more addictive than cocaine.
Nobody believes me the first time I tell them that, but it's true.
When you stop eating sugar for just a few hours, you begin to exhibit sugar withdrawl symptoms.
A lot of us associate those symptoms with being hungry, but that is not the case.  When you go through sugar withdrawl, you aren't hungry – you're going through withdrawl.
Your stomach can be completely full of non-sugar food, and you'll still feel what you might associate as "hunger".
Sugar cravings kick in within a few hours of your last sugar fix.
They progressively get worse and usually peak around the 30-48 hour mark.
If you can survive those first two days without any sugar, you beat your addiction.
Most people can't though… because when you first go through it, it feels like you're going to freak out and die.
I remember the first time I confronted my Sugar Monster.  After about 10 hours of eating no sugar I started to freak out.  My stomach was full because I had just eaten some soup, but I felt "hungry".
It wasn't real hunger though, it was the Sugar Monster.
People laugh when I tell them this, but only until they try to do it themselves.
The tricky thing with getting past the Sugar Monster is that the best and fastest way to win is to stop eating all sugar.
The worst thing you can do is to start the process and then to give in and eat some sugar after a day or so.  That just restarts the whole process.
Anyway, with any diet I go on nowadays I pretty much expect that the first two days of eating no sugar are going to be hell and then after that things get easier.
Today was my first day and even though the Sugar Monster did show up, I didn't let him beat me.
I know these sugar cravings will only last a few days, but the benefits of losing this weight will be with me forever.
Where to From Here
Since it's my first day on the diet I don't have much to report except my experience from Day 1.
I did a full set of body measurements and took some pictures so that I can track my before/after results on this diet.
I'll add them to my body transformation page and I'll probably do weekly updates on my weight there – in addition to my weight loss challenge updates.
Who else has been on this diet?  Anyone else thinking about going on it?