Along with my recent decision to lose weight and to get in better physical shape I also decided to become an independent affiliate with Herbalife and to try out the Herbalife brand of products to see how good they are, how good they taste and how I like them.
I ordered a bunch of different products they offer to try them out, but in this post I'm going to specifically focus on reviewing the Herbalife Roasted Soy Nuts.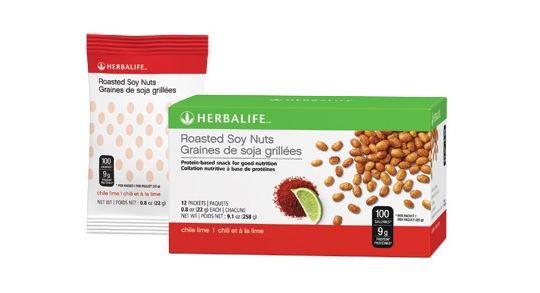 The reason I ordered these is because I wanted to have some healthier snack options available to me as I work at my computer throughout the day.
Sometimes you just have a craving for a savory snack and it's easy to end up eating something that isn't exactly very healthy for you, so a light snack like this can be very helpful to have around.
Herbalife advertises these nuts as something that will satisfy your craving for something salty and crunchy, while at the same time being nutritious.
The soy nuts are also individually wrapped so they are easy to take with you to work, or on a trip or to just have in your desk drawer for when you want a snack.
Each individually wrapped packet is 22 grams, 100 calories, has 9 grams of protein, 7 grams of carbs, 2 grams of fiber and 4.5 grams of fat.
Overall this makes these a pretty decent snack, nutrition wise, and definitely much better than having something like a bag of potato chips or something along those lines.
So far I've only tried the chile lime flavor and it's actually pretty good. They do taste good, and they do satisfy my craving for something salty / savory.
They do also fill me up when I eat them so that I'm not as hungry in between meals.
If I had one complaint, it would be that the soy nuts are pretty dry so as you eat them you'll want to make sure you have something ready to drink along with them like water, which might not be a bad thing at all as I do really need to increase my water intake anyways. 🙂
One thing I do love about Herbalife is that they have one of the best consumer protection plans on the market, offering a full 30 day money back on all their products so if you order something and you don't like the taste of it, you can return it for a full refund no questions asked.
This pretty much eliminates all the risk of trying them out. You either like them, and keep them, or you don't like them and you send them back.
For me personally I'm keeping my box of Herbalife Roasted Soy Nuts as I like how they taste and I like how they fill me up in between meals and satisfy my craving for something savory / salty.
If you'd like to learn more about the Herbalife Soy Nuts or other Herbalife products, you can visit my independent affiliate store by clicking here or contact me if you'd like to place an order or learn more about the Herbalife opportunity.
-Paul