Prior to switching from WordPress to Kalatu I always liked to have an "Archives" page on my Blog where all of my past blog posts were listed in reverse chronological order.
WordPress has many different plugins that you can use to create an Archives page, but at the end of the day none of them really did exactly what I want from an archives page so when I switched over to Kalatu I just decided to create my own Archives page.
It's actually very simple to create such a page…
… all you do is go to the "Pages" section and click on "Add New" and create a new page called "Archive" and save it.
Now you've got a blank canvas to work from.
What I did for my Archive page is I created a bullet-point list for each month of Blog posts that I have, and just listed all my posts in reverse chronological order with the newest content up top.
Here's a screenshot of what that looks like: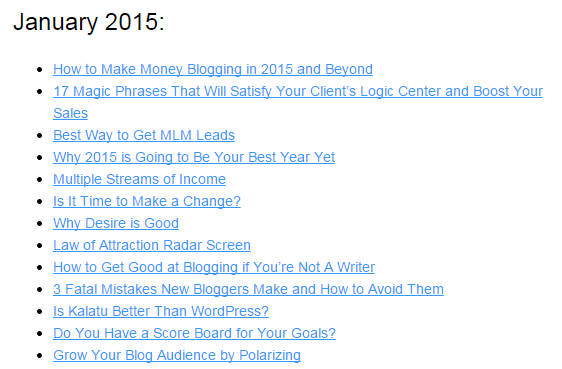 By setting it up like this all I have to do is just add an extra bullet point listing for each blog post I write and add it to the top of the current month.
I actually don't update my archive page every single day.  I do it every few days.
It's really easy to set it up, and I recommend that everyone should have a page like this…
Why?
Well for a few reasons.
Firstly, whenever you want to find a blog post that you wrote a while back, you can just load this page and then hit CTRL+F on your keyboard to activate the "Find / Search" box on your browser and then type in the title or a keyword from the tile of one of your blog posts and it will find it.
It may not seem like a big deal if you only have a few blog posts, but trust me, once you have a few hundred blog posts on your site it makes it really convenient to be able to quickly find a post you wrote in the past.
On my previous blog where I had about 700+ blog posts I used to use my Archive page all the time for this purpose as very often people would ask me questions online and in a lot of cases I already had a blog post written that answers their question, so instead of re-answering the same question over and over again, I just sent them a link to the blog post where I answered that question. 🙂
Secondly, an analysis of your Google Analytics stats will show you that if you have an Archive page a lot of people will visit it, and perhaps they'll find more articles that you wrote that they'll enjoy reading.
This will increase your traffic stats and of course provide more value to your audience.
Thirdly, although I can't verify this or say for sure, but I do believe you Archive page will eventually become a higher authority page on your Blog in the eyes of Google and the links from it to your blog posts may help you with your SEO rankings.
This third reason is the least important reason in my opinion, and it might not be valid anymore as Google is constantly changing their algorithm so who knows what actually helps and what doesn't by the time you're reading this, but in either case it couldn't help to have a page on your Blog where anyone can find all of your Blog posts listed for easy reference.
If you'd like to check out what my Archive page looks like, click here.
Feel free to copy the layout.