I've had a few people asking me an interesting question related to Blogging or Vlogging recently.
The question is how do we build a blog audience or an audience on YouTube or Facebook and get people to engage with our content, when it seems like the only type of content people want to engage in is stupid stuff like cats or dogs doing stuff or people pulling pranks on each other etc.
If you're a Blogger who creates content that is educational, or inspirational or you cover a topic that is a little bit more serious than cats doing silly things, it can be a bit discouraging to pour your heart and soul into a blog post or a video and then to publish it, and see very little or no engagement at all.
As a prime example of what I'm talking about, I recently uploaded a picture of myself onto Facebook with a beard that I just recently started to grow and I asked people if I should keep it or shave it off.
Here's the post that I'm referring to: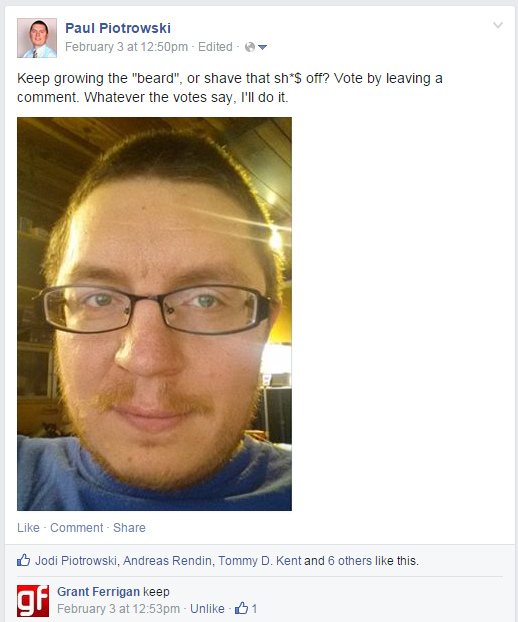 Well, the interesting thing about this "stupid" post is that it got the highest engagement out of virtually any other post I have ever posted on Facebook – like over 80+ comments in about 24 hours.
That may not sound like a lot, but when I post something where I'm actually sharing something inspirational or educational or where I share a Blog post that teaches something, those types of posts are lucky to get 2 comments and a few likes.
A lot of new bloggers who are just getting started will know exactly what I'm talking about.
They'll write a blog post or record a video, and they'll publish it and then sit there wondering why nobody is commenting or liking their stuff.
Meanwhile, they'll see some other blogger who just wrote one of the worst blog posts of his or her career, and there's like 150 comments on it.
It can be VERY frustrating to see this happen, and it can make you start to think that maybe you're not a good Blogger or that maybe there's something wrong with your content etc.
However, that is very likely NOT TRUE!
There might be nothing wrong with your content.
Your content might be absolutely amazing…
However, you're not realizing one KEY thing… and that is what I share in today's video.
Check it out here:
If you enjoyed this video, and got some value from it, take a moment to click the thumbs up button that appears when you hover your mouse over the video.
Thanks!