Are you trying to figure out how to record your mix in Traktor Scratch Pro 2?
When I first wanted to record my mix in Traktor Pro 2 I got a bit confused as there didn't seem to be any way to hit the record button.
Then I figured it out.
Once you know how to do it, it's pretty easy.
Here's a short video I recorded showing how to do it:
Don't like videos?
Here's some screenshots of how to do it instead. 🙂
Step 1 – Record Settings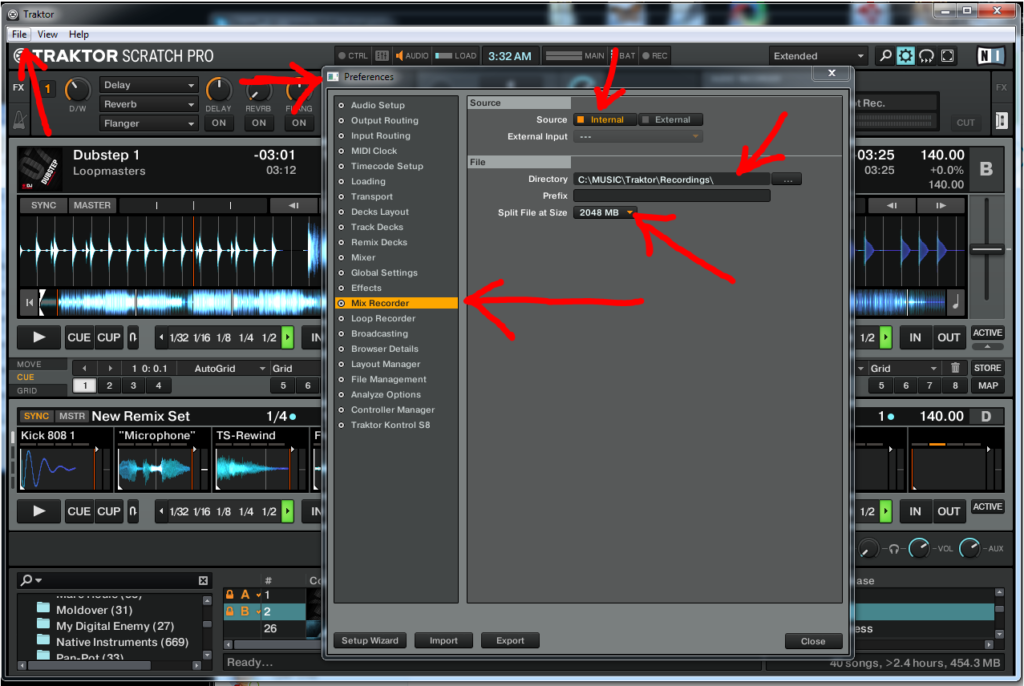 First you want to make sure your record settings are configured properly.
Go to the FILE menu and hit PREFERENCES.
Then select the "Mix Recorder" section.
Set your source to "Internal", and select the file directory where you want Traktor to start putting your recordings.
You'll also want to select the maximum file size you want Traktor to create before splitting the files into multiple files.
I just selected the largest size – 2048 MB – so that it doesn't split my recordings into multiple files unless they get really long.
Step 2 – Find the Record Button
Next to actually enable recording you'll have to find the record button.
You may need to set your view mode to "Extended" first.  You'll find that at the top of your screen, just left of the search icon.
Then, on the left side you'll see a tab for FX and then underneath it you'll see an icon that looks like a cassette tape.  Click it.
That will reveal the record button.
Set your gain levels to the right level you want, and then just click the RECORD button and then click PLAY on one of your decks.
Do your thing, and when you're done your mix, just click the record button again to end recording.
You'll find the file inside the directory you selected in Step 1.
If you're lost, watch the video above. 🙂