For the past two months I've been growing herbs like basil, thyme, parsley, dill, mint and chives in my hydroponic AeroGarden.
Then I decided to get the growing bowl upgrade / conversion kit for the AeroGarden so that I could grow strawberries in it instead.
I still had all the herbs that I had grown for the past two months and I didn't just want to throw them away, so I decided to build a very basic hydroponic setup for my herbs.
Here's how I built it.
Step 1 – Getting a Container
The first thing I started with was finding a suitable container.
I found a small Rubbermaid container that worked perfectly.
( Link )
They come in virtually any size you want.  I picked a size that was roughly the same size as my AeroGarden.
I took a picture with a pair of scissors on the lid for size comparison.
Step 2 – Marking and Drilling Holes
Next, I marked seven round holes with a dry-erase marker on top of the lid to fit my AeroGarden plastic baskets.
If you don't have an AeroGarden, they look like this: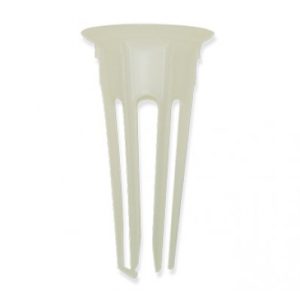 If you're not already transferring plants grown in these AeroGarden baskets, and instead starting from scratch, I would recommend getting some net mesh pots like these instead: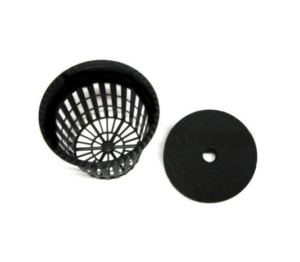 ( Link )
You can get them in various sizes.  I'd probably go with 1.5″ or 2″ in diameter, just depending what you'll be growing.
Once you know what kind of baskets the lid will be holding, you'll need to drill holes that are slightly smaller than the baskets so that they don't fall through the hole.
I started off by pre-drilling a hole in center of where each of my baskets would go, and then I used a 1.5″ hole saw drill bit to drill the holes.
The only hole saw that I had in that size was a diamond one used for cutting through tiles, so it was a bit overkill for cutting through plastic but it got the job done.
Step 3 – Moving the AeroGarden Herbs Over
Once I had the holes drilled, I simply pulled each one of the baskets out from the AeroGarden and moved them over to the new lid with the holes in it.
I had to be careful with the roots, as they had all kind of grown together and into each other, but by gently pulling on them I was able to slowly separate the roots.
Once I moved all the herbs over to the new lid, they looked this:
Pretty much the same setup as them sitting inside the AeroGarden.
Step 4 – The Water and Nutrients
Once I got all the herb baskets moved over to their new home, I took the nutrient solution straight from the AeroGarden and poured it into the Rubbermaid container so that the herbs could be exposed to the same water and nutrients they had in the AeroGarden.
If you aren't starting with an AeroGarden like I was, and don't have nutrients or baskets, you can also get the AeorGarden Grow Anything Kit which comes with the baskets and nutrients…
Step 5 – Lighting
Obviously with the AeroGarden, the herbs also had a light source right above them to help them grow.
An easy and cheap solution to lighting is to get a simple clamp light reflector that looks like this…
( Link )
… and then throw in a full spectrum hydroponic grow light bulb like this…
( Link )
Step 6 – Aeration
This final step of adding aeration, I actually didn't do, as I only had the herbs in the container for a couple of days so I didn't think it was going to be that important.
However, when I looked at the roots a few days later, I wish I did add aeration as the roots didn't look as healthy as they did before.
If you're going to be keeping the plants or growing new ones in a system like this, you'll need to add aeration which can be pretty easily done by getting an aquarium aerator pump like this…

( Link )
…and adding an air stone like this…
( Link )
Summary
This type of system where you have a plant suspended in a basket with its roots exposed to an aerated nutrient water solution is called a deep water culture hydroponic system.
It is one of the simplest and cheapest to build systems, and it worked perfectly for me and my herbs while I was waiting for my new hydroponic system to be setup.
The only thing I would do differently next time, would be to immediately add an aerator pump and air stone to the water to keep the roots healthy.
There are a lot of people out there using this exact type of system they built themselves to grow anything and everything from lettuce to cucumbers to tomatoes and many other things you can grow and eat later on.
Total cost for the project:
Rubbermaid Container ~ $12
2″ Net Pots x 8 ~ $5
Clamp Light ~ $7
Full Spectrum Grow Bulb ~ $14
Aquarium Aerator ~ $9
Air Stone ~ $7
Total Costs – Approx. $54
I didn't include the seeds or nutrients in the cost above as there's so many different kind of nutrients you could go with, but as an inexpensive option you could go with the AeroGarden Grow Anything Kit which includes baskets that are ready for your seeds and nutrients for just $18.
I also didn't include the cost of the drill to drill the holes, but if you're the type of person who doesn't already have a drill at home for various do-it-yourself projects, then you probably shouldn't be trying to make one of these anyways.
  You may be better of just buying an AeroGarden where it's all made for you like I did to start and go from there.
Also if you're not transplanting plants from an AeroGarden like I did, or getting the AeroGarden Grow Anything Kit you'll need to get some Grodan Rockwool cubes to put your seeds into, which then go into the 2″ net pots.  These cubes are also ultra cheap, at around $12 for a pack of 45.
I'll write a post on how to start seeds in these cubes in the near future if you guys would like.