Looking for a free P90X Log Sheet? Ever since I started on my P90X workout schedule I've been looking for a simple Excel based P90X Log Sheet to track my P90X workouts. After looking for a couple of weeks I haven't found anything I liked so I decided to just create my own. After days of messing around with Excel I finally got a really nice tracking sheet that I use for all my P90X Workouts. If you're looking for a way to organize your P90X workout schedule, and to track all of your stats, you're going to love this spreadsheet. This P90X Log Sheet tracks exactly how many reps you're doing with each exercise, (including Ab Ripper X exercises!), how much weight you're using for each exercise, whether you're using dumbbells or bands, and the type of exercise you're doing (regular, modified, knee etc.).
P90X Fitness Test Page
The P90X Log Sheet will allow you to enter in all of your Fitness Test scores from your initial Fitness Test and your Fitness Test after 90 day. The sheet also allows you to track your Body Composition (Weight, Body Fat %) as well as Body Measurements at the end of each of the Phases in the program (Phase I – Day 28, Phase II – Day 56, Phase III – Day 90).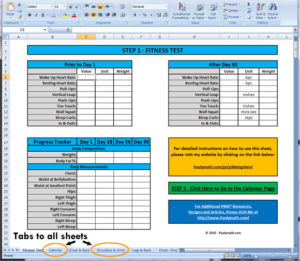 P90X Workout Schedule
The P90X Workout Schedule allows you to enter in the start date for your program, and it automatically generates a workout calendar schedule that shows you exactly what you will be doing for each day in the program. Each one of the days in the program links to a tracking sheet where you can enter in the stats for that day.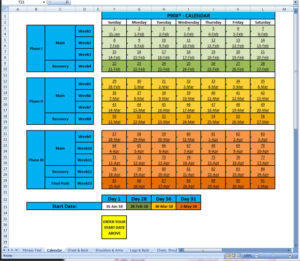 P90X Workout Tracking Sheets
For each of the different DVD's in the P90X Workout Program, I created a tracking sheet where you can keep track of every detail of every workout. Most of the other trackers I've seen out there assume that you're going to be doing regular pull-ups and regular push-ups. However, many people on the P90X system don't start off with regular pull-ups and regular pull-ups when first getting going. Some of us need to use resistance bands instead of pull-ups at first, or at least use a chair when doing your pull-ups. This P90X Log Sheet will allow you to track all of that. The same thing goes for push-ups. Most of us will modify our push-ups to either make them a bit easier (knees down) or harder (one leg up) etc. and this sheet allows you to track that as well.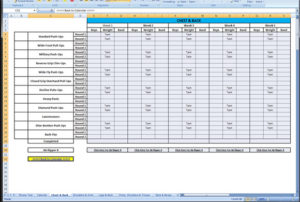 The P90X Log Sheet includes tracking sheets for:
Chest & Back
Shoulders & Arms
Legs & Back
Chest, Shoulders & Triceps
Back & Biceps
Ab Ripper X
Plyometrics
Yoga X
Core Synergistics
Kenpo X
X Stretch
P90X Ab Ripper X Tracking Sheet
In addition to the other tracking sheets which track your strength training workouts, the P90X Schedule Workout Sheet tracks your Ab Ripper X progress as well! You simply enter in the amount of reps you were able to do for each of the separate exercises and it tallies up the total number of Ab exercises you did for each session. This way you can easily see your improvement over time. Maybe you start out and you can't do 25 Crunchy Frogs, so you do 10. The next time you do Ab Ripper X you try for 12, and 14 the time after that. Do that on any of the exercises that you're doing and the sheet will add up your progress. You'll be surprised how quickly things add up when you do just "two more" here and "two more" there.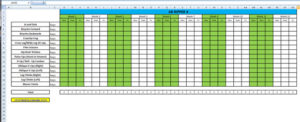 The P90X Log Sheet is available for download free of charge to my newsletter subscribers.
If you have not yet subscribed to my free newsletter, you may do so by clicking here: