I have to admit – I'm a gadget freak.
I just love my gadgets. 🙂
That's why when I first saw the Skulpt Aim Indiegogo campaign over a year ago, I wanted one right away.
The Skulpt Aim is a revolutionary new fitness tracking device that is takes a different approach to traditional fitness tracking.
How?
By allowing you to accurately track results – not activity!

Don't get me wrong.  I love my activity trackers as well, but what's unique about the Skulpt Aim is that it helps you to measure the actual results that the activities you're doing are producing, so that you can quantify your results much better.
The device itself is a bit smaller than a typical cell phone in size, and it synchronizes with their cell phone app via Bluetooth.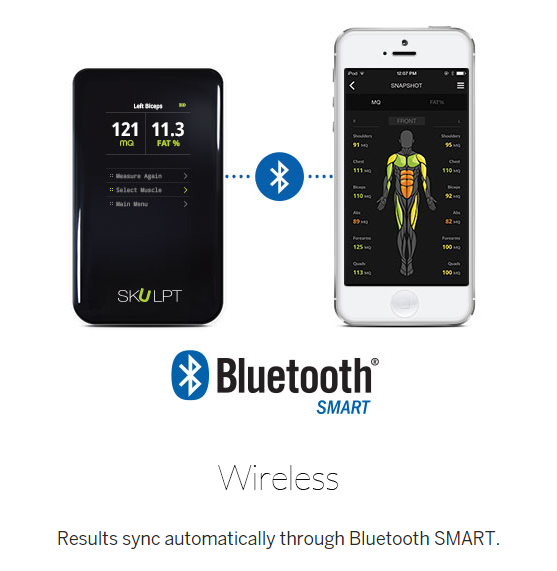 I just got the Skulpt Aim this afternoon and I decided to shoot a couple of quick videos to show you guys how it looks and works.
The first video is the unboxing of the Skulpt Aim.
Once I unboxed it, I had to let it charge for a few hours and got the cell phone app setup as well before shooting this second video with my first impressions.
After playing around with the Skulpt Aim a bit more, here's my first impressions of it:
What I Like:
Quality seems good.  Feels like it will be durable.
Very easy to use.  Only took a few minutes to understand how to use it.
Phone apps available for iPhone and Android – Yaay!
Phone app easy to use as well.  Graphics look nice too.
Rerunning multiple tests of the same body area seems to provide fairly consistent measurements.
Nice full-color screen.
Guest mode available.  Yaay!
What I'd Like to See Improved:
More cool graphs in the phone app would be nice to match what you see in their promo video.
Touch screen in a future version would be nice.
An affiliate program for bloggers! 🙂
Overall my first impressions of the Skulpt Aim are very positive.
Seems like a great device, and I'm looking forward to tracking my results with it.
The Skulpt Aim retails for $199 and you can purchase it from their website here.
Do You Love Gadgets?
If you're a gadget freak like me, and you love playing with new gadgets as they come out, did you know that you can make money by blogging about gadgets, testing and reviewing them?
There's an abundance of new gadgets coming out all the time and consumers today go online for reviews and opinions on new products.
As a blogger you can get paid to the gadgets you'd be buying anyways.
If you'd like to learn more about how to make money with a blog, click on this link.