I have now been blogging for 85 days straight, every single day, without missing one day.
During this period of time, I've had every excuse you could imagine to skip at least a day or two here and there.
I've gotten sick with a weird flu for a few weeks at the beginning of January, I had a bunch of family / social events come up, I've had to have the foundation at my house dug up to install a new drainage system because water was getting into my basement and a whole bunch of other things that have popped up which could have easily given me a "legitimate excuse" to skip blogging for at least ONE day somewhere in there.
But I didn't skip any day.
How did I do that?
How have I been able to stick to writing at least one blog post per day without skipping a single day, when it would have been so much easier on a lot of the days to just take a day off and sit and watch TV or something?
Well, you have to find something that motivates you MORE than sitting on the couch and watching TV.
For me, the thing that motivates me the most is the idea of achieving TOTAL FINANCIAL FREEDOM.
To me, the idea of total financial freedom is simply having enough passive income coming in each month to pay for my lifestyle without me ever having to "work" for money ever again.
For example, let's say I had $2,000,000 in cash, and I invested that into some sort of secure investment that paid me 5% interest each year.  That investment would pay me $100,000/year in passive income that would just keep coming in every year without me having to work ever again.
That doesn't mean that I would just sit around like a lump and do NOTHING with my time.  I would still do stuff, it's just that there's a big difference between working on stuff because you WANT to do it, versus working on stuff because you HAVE to do it in order to pay the bills.
Okay, so what does this have to do with blogging daily?
Well, here's the thing…
In order to keep myself motivated, and because I know that one of my highest desires is reaching total financial freedom, I PROGRAM my mind to believe that each blog post I write is moving me close towards that goal…
… not in a vague, general way, but in a very SPECIFIC way with REAL numbers.
Allow me to explain what I mean.
My starting date for committing myself to building this Blogging business with Empower Network started on Dec 30th of last year, which I believe is 85 days ago…
… so the way I see it, it's like I hit an invisible reset button and started building my business from scratch on that date.
Now, to program my mind to believe that my blogging is moving me towards financial freedom I use a few simple math calculations to calculate the hypothetical value of my blogging business as follows…
The first thing that I start with is I log in to my Empower Network back office and I look at my stats dashboard which show me the exact amount of residual income I have been able to achieve in my business so far.
Here's a snapshot from my back office here: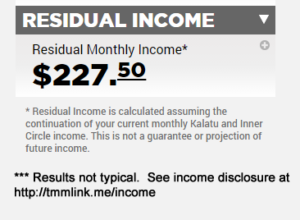 Now, I realize that $227.50 in residual income doesn't sound like a lot of money, and this is where most people go wrong with their thinking and why they give up on their businesses…
… you see for me, I see $227.50/month in residual income as a LOT of money.
Why?
Well, here's how I see it…
First of all, because of my blogging efforts and such I expect that number to go up significantly over the next 12 months.
However, let's assume that this number didn't go up at all…
… let's assume that it just stayed at $227.50/month for the next 12 months.
Well, that would mean that my Blogging business with Empower Network would generate $227.50/month x 12 months = $2,730.00 in residual income over the next 12 months.
Even just by multiplying the monthly amount by 12 months, the numbers already start to sound a lot more exciting, don't they?
But this is just the starting point…
… so let's assume that my business currently generates $2,730.00 in residual income per year…
… the next question I ask myself is "How much CASH would I have to have in the bank in order to pay me $2,730/year in residuals?"
In other words, if I wasn't building a business like this, and instead I was just focusing on SAVING money from some job I had or something like that and investing that money into RRSPs (or a 401k plan in the US), how much money would I actually need to SAVE in order for that money to make me $2,730/year in residual interest income?
Well, to calculate that we first need to figure out what interest rate I would be getting paid on my investment.
For my calculations I like to use the number 5%.  Why 5%? Well because most "safe" investments out there like putting your money into a bank or a savings bond or something usually pay around 1% – 3% on your money…
…then when you move into just slightly more risky investments like government bonds etc, you can usually get around 2% – 7% long term as an example.
Of course if you invest in the stock market or other higher risk investments you could make more, but I'm referring to a hands-off, safe investment…
… so to me, I could say 3% is a safe bet, but to be a bit more generous I bump it up to 5% for my calculations.
So the question once again is this…
How much money would I need to have in a safe investment which gets 5% interest per year, in order for that investment to generate $2,730.00/year in interest income.
Well, the calculation is actually pretty simple, you just take $2730.00 and divide it by 5%.
$2,730.00 / 5% = $54,600.00.
In other words, I would have to put away $54,600.00 into some sort of safe investment earning me 5%/year in order to generate $2,730 in residual income per year ( $227.50/month ).
Does that make sense?
So basically when I look and see that my blogging business generates me $227.50/month in residual income, I see that as meaning that building my blogging business is basically almost the same thing as manifesting an extra $54,600.00 out of thin air and putting it into a safe investment that pays me a residual income.
Or looking at it slightly differently, I tell my mind that my blogging business is basically worth $54,600!
Meaning, it's generating the same amount of residual income as $54,600 in cash would generate if I put it into a 5%/year investment.
Make sense?
Okay, so if I program my mind to believe that my blogging business is already worth $54,600.00 then the next thing I need to look at is how much of my time did I invest into creating that?
Well, to keep the math simple, let's divide $54,600.00 by 85 blog posts, and we get $642.35 per blog post.
Meaning, essentially how I visualize it in my mind is that each blog post that I write is adding about $642.35 into my "financial freedom" account…
Now, of course all my calculations are hypothetical… just because I calculate it out this way doesn't meant that my blogging business is actually worth $54,600.
It might be worth less or it might be worth more.  I'm not selling it so it doesn't really matter anyways.
But my point with this is to show you how I play these games with my mind to essentially program it to be EXCITED about blogging, by linking consistent blogging with my ultimate goal of achieving financial freedom.
In other words I *SELL* my mind by using this kind of thinking to make it realize that each blog post I write is kind of like putting $642.35 into my "financial freedom fund".
Would you write a blog post if someone paid you $642 to write it?
You probably would, right?
If you're having trouble sticking to a regular blogging schedule it is probably because you're NOT playing these types of mental tricks with your mind.
In fact, your mind is probably working against you whenever you try to Blog.
Maybe you're currently making $0/month in residuals from your Blog, so every blog post you write seems like a waste of time and energy.
That is why it's so important to use a proven system like Empower Network to start monetizing your blog – otherwise it may be difficult to stay excited long enough to see this through.
If you've made any money at all with your blog, take that amount that you made and use this little formula to give your mind a number it can get excited about!
Like if your Blog is making you $20/month in residual income, the calculation to figure out how much your blog is "worth" would be as follows:
$20/month x 12 months = $240/year…
…and $240/y divided by 5% = $240/0.05 = $4,800!
So if you have a residual income stream of $20/m coming in, program your mind to believe that you've built a business worth $4,800.
If your business was making $500/month in residuals, the calculation would be:
$500/m x 12m = $6,000/year…
…and $6,000 / 0.05 = $120,000 !!!
Meaning you'd have to have an investment/savings account worth $120,000 earning you 5% interest per year in order to be making $500/month in residuals.
So if your blogging business is providing you with $500/m as well, you could say that that business is worth about $120,000. 🙂
Again, I'm not saying that this is how you calculate the valuation of your business.
That is not what this post is about…
this post is about learning how to program your mind to see the value in Blogging.
If you're not motivated by financial freedom, you'll have to find a different way to connect your blogging efforts with achieving whatever your dreams are…
… but if you're like me, and financial freedom is "the dream", then I recommend using this little exercise to program your mind to stay motivated to blog.
If you'd like to learn a lot more of the Jedi mind tricks I use to build my business, I recommend joining my team by clicking here.