In a world where every social media website out there is fighting for your video content, I still think one of the biggest resources that every blogger can leverage is the power of YouTube.
Of course you can record a video and slap it on Facebook, or post a short clip on Instagram, and even Twitter is now allowing some basic video functions.
But after the initial "shares" and "likes" are done, and the Facebook wall updates and the Twitter feed refreshes, where is your video content?
It's GONE… lost in the ABYSS.
I can't count how many times I've seen someone posting a really cool video on Facebook, and then a few days later I can't find it!
It gets buried and it's next to impossible to find.
I usually end up on YouTube searching for it, hoping that whoever uploaded the video to Facebook also uploaded it to YouTube where I can search for it. 🙂
Now, I'm not saying not to use Facebook, or Twitter or Instagram for video.
What I'm saying is to MAKE SURE to use YouTube in your strategy and not to allow your laziness to stop your from doing that.
The reason I say "laziness" is because most of these other social media platforms lure you into using THEIR video platform instead of YouTube by making the upload process SIMPLER than YouTube.
Don't want to give your video a title, a description, category or any keywords it could be searched by?  Then come on over to Facebook/Twitter/Instagram and just slap your video up there with a billion other videos which have no titles, descriptions, categories or keywords.
It's easier, right!?
Save yourself a few minutes and just get your video up there on these platforms.
Who needs YouTube?
Well, if you're being lazy and not taking a few extra minutes to upload your video to YouTube, and give it a proper title, description, category and keywords, you're missing out on a LOT of exposure for your blog, your brand, and you're making it much harder than it needs to be for new people to discover you.
Take a look at this screenshot from my YouTube stats screen on one of my channels: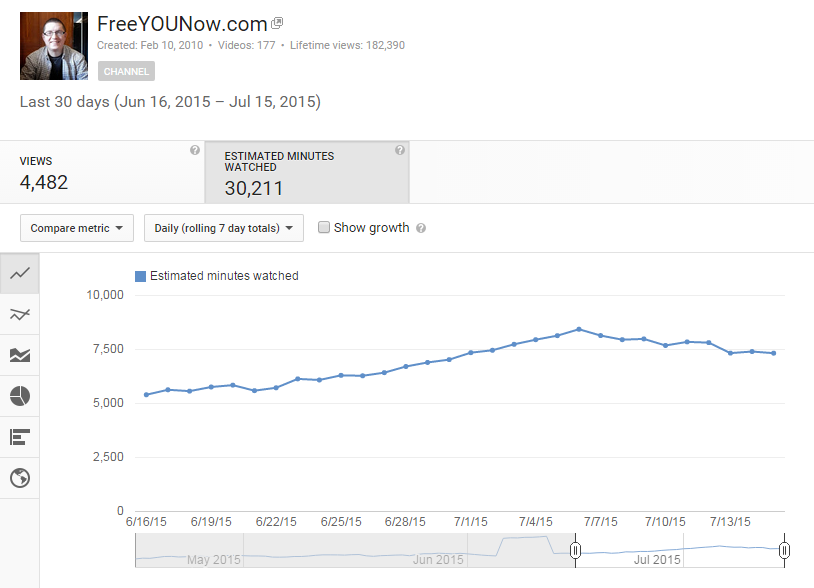 I consider my YouTube channel a very "beginner" channel, even though I've had it for over 5 years.
I haven't been consistent with uploading videos, or creating a community and continuing to upload videos on a regular schedule.
I've made a LOT of mistakes with my YouTube channel and my video blogging efforts.
However, even with my small channel that's really just starting out, take a look at the estimated number of minutes my videos have been watched in the last 30 days.
That's 30,211 minutes watched on my videos in the last 30 days.
That is more than 500 HOURS of people out there sitting in front of their computers and WATCHING my content.
And you know who appears in virtually every single one of my YouTube videos?
ME!
My YouTube videos are out there, building MY brand, bringing awareness to who I am, and my message and mission to help people, and people are spending on average about a THOUSAND minutes a day watching my content on YouTube – and growing.
I think sometimes people see big numbers on the Internet like some celebrity or some viral video getting 10 million views and their minds get programmed to ignore smaller numbers.
They get 300 views on a YouTube video and they think "Oh, how come I only got 300 views..hmmm"
Well, compared to 10 million views, yes 300 views is not a lot, HOWEVER, 300 views is still a LOT of people.
Imagine a room with 300 people sitting in it.
Imagine standing on front of a room with a row of 15 chairs across, spanning back 20 rows and every seat in every row is FULL with a person sitting there.
That's 300 people…
300 views is a lot of people!
20 views is a LOT!  Assuming 1 view per person, that's 20 HUMAN BEINGS watching your videos, getting exposed to your brand, to your energy, to your personality, and getting to know you… on autopilot, 24 hours a day, whether you're awake or asleep.
As I write this Blog post there are people watching my YouTube videos.
There are 1,440 minutes in a day and my channel is getting about 1,000+ minutes watched every single day…
… this means that I'm almost at the point where people are watching more minutes of my videos per day than there are minutes in a day.
Isn't that crazy?
To me that is mind-boggling as I totally feel like I haven't even started to really produce any volume of video content, yet.
I'm just getting started.
What about you?
Are you ignoring YouTube?
Are you afraid to make videos?  If so, I recommend watching this video I recorded which shows you how to overcome your fear of making videos.
Are you being a bit lazy and just throwing your content up on Facebook without uploading to YouTube?
If you're a blogger, I STRONGLY recommend embracing YouTube as a way to deliver your content to more people with greater ease and to make your content searchable and findable beyond just the first 15 minutes after you post your video content on Facebook / Twitter or Instagram.
Those platforms are awesome as well, but don't take YouTube for granted.
It can be HUGE in your marketing, branding and blogging efforts.