I often hear people talk about two pillars of building a successful blog being consistency and value.
Meaning, the advice to bloggers most often is to create valuable content and to do it on a consistent basis – ideally daily.
Although those two pillars of blogging are important, there is another aspect to blogging that a lot of people ignore – being present where your target market is.
Let me give you an example.
A few days ago I bought a new car.
I still have my old car which has a blown transmission / differential.
The going rate for a car like mine in working condition is about $3,000 – $6,000.
Now, since my transmission is blow I've been wanting to get rid of it for much cheaper, like around $500 – $1000 or so.
I talked to few different friends I know who I thought might be interested in the car and was willing to sell it to them for ultra cheap – like $500.
After a few days of talking with different people, I still had nobody interested in buying the car.
I KNOW the car is worth more than $500 but I just want to get rid of it, and that is why I was willing to sell it for that cheap to one of my friends.
Nobody wanted it though.
I had something of value, but I was presenting that value to people who weren't interested in it – and got nowhere.
So this evening I decided to put the car up for sale on Craig's list, as I know that is where the target market for buying a car like this hangs out always searching for good deals on cars.
So I posted an ad out for the car for $900 and within about 6 or 7 minutes of posting the ad, my cell phone blew up with text messages and phone calls.
Now I have someone coming tomorrow morning to pickup the car.
I had to pull the ad down as I was inundated with calls and text messages.
That is the power of taking something of value and making it visible to the right target market.
Blogging works the same way.  You can write the most valuable blog post, but if you don't learn how to properly market your blog posts to your target market, and make them visible and available to people who are looking for that specific type of content, then your blog will remain invisible.
Here's another example of this principle at work.
My other blog – TabletopGamer.com – has a Facebook fan page where I started posting my blog posts after I re-launched the blog a few months ago.
After re-launching the site, I started creating new content (blog posts and videos) which provide value to that audience.
However, for the past two months my Facebook fan page looked like this:

Completely flat lined!
The challenge being that nobody was even seeing my posts.
Even though I had about 700-800 followers on my Fan page, because the page was stagnant for the past few years, Facebook wasn't showing any of my posts or content to any of them.
I would spend time writing a blog post or creating a video and then I'd post it on my fan page, but Facebook wouldn't show it to anyone.
So last week I launched a small paid campaign to start showing my content to people on Facebook who are specifically interested in tabletop gaming.
The result?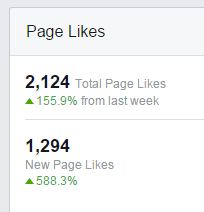 Almost 1,300 new fan page likes in less than a week and a MASSIVE boost in my user engagement on the page.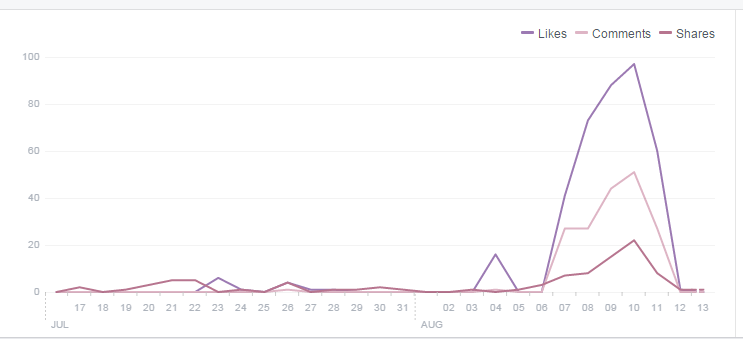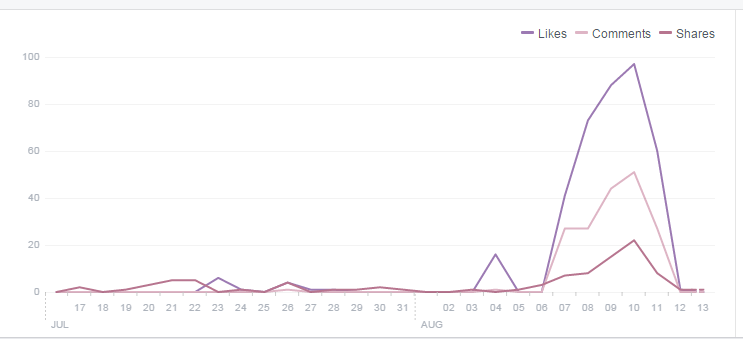 A lot of times I'll be chatting with bloggers who are struggling to get their blogs going and they almost always tend to assume that if they're not getting traffic, not getting comments or likes or other forms of engagement on their blogs or facebook fan pages, it must mean that their content is not good.
They always question if their blog posts are good enough, or if their videos are good enough.
What most bloggers don't pay attention to or realize is whether or not their blog posts are actually being SEEN by their target market.
Because if your target market is not even seeing your blog posts, then there's no way for them to engage with it – RIGHT?!
This is why it's so important to learn how to properly market and position your blog and it's content to the RIGHT target market.
You have to learn how to be present where your target audience is hanging out.
When I was trying to sell my car to the wrong target audience, I couldn't get ANY interest.
The minute I positioned it in front of the right target audience, I almost had to shut down my phone as I was getting inundated with texts and phone calls.
It's the SAME CAR… the SAME VALUE… the only difference was that I made it available to the right target market.
THAT is what most bloggers who struggle are missing.
They don't know how to properly market their blogs.
This is why I recommend joining my team with Empower Network, so that you can get access to the tools and training you'll need to make sure your blog is actually SEEN by your target audience.