One of my hobbies for quite some time now has been playing around with making videos for websites and Blogs.
I've played around with many different software packages out there which can cost anywhere from $499 to $5,000 and up.
These types of price-tags are one of the reasons that many people are turned off from the idea of getting into video production for their Blogs or websites.
The other reason is because most of these software packages can take YEARS to master, or at the very least a few months to get at least somewhat proficient at.
You CAN hire someone to make videos for you, but you could end up spending anywhere from $100 – $5,000 in production costs to make ONE video!
But what if you just want to have the ability to make some very simple slide-show videos that allow you to communicate a simple message to your audience?
Well, there's a new software out that I purchased a few months back which can do just that.
In a matter of a few minutes you can make a simple slideshow video like this one:
It only took me about 10-15 minutes from start to finish to create this video, render it, and upload it to YouTube.
Now I know this video is not super spectacular, but I just wanted to make something really quick to show you how easy it can be to make videos that you can add to your Blog posts or to your website.
The software is incredibly easy to use and only takes a few minutes to learn how to use it.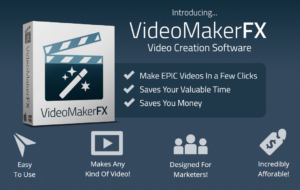 So if you've been looking for an easy way to make videos for your Blog, I'd strongly recommend checking out Video Maker FX.
It's easy to use, it's affordable, and you can make an unlimited number of videos without having to pay a per-video production fee like you would if you hired someone else to do it for you.
The software also comes with a 30 day 100% money back guarantee, so you can try it out for 30 days, make a bunch of videos and if you don't think it's the best video making software for you then just ask for a refund – no questions asked.