So you've got a blog and you're looking for a way to get traffic to your blog for free.
In this post I'm going to share 7 ways you can get traffic to your blog absolutely free.
Free Blog Traffic Idea #1 – Comments on Other Blogs
One simple way to start getting traffic to your blog is to visit other blogs in your niche market and start participating in the conversation on those blogs.
When you leave well thought out comments, some of the people who read them will be interested in who you are and they will click on your name which will take them back to your blog.
Make sure that when you're leaving comments you fill in the fields such as your name, email address, and your blog URL along with your comment, so that when people click on your name above the comment they will be taken to your blog.
The other benefit of this strategy is that even if nobody clicks on your name and visits your blog, Google will see and count the link to your blog which will help with your overall ranking on Google as well!
When you finish reading this post, why don't you take advantage of this strategy by leaving a comment on this post since you're already here!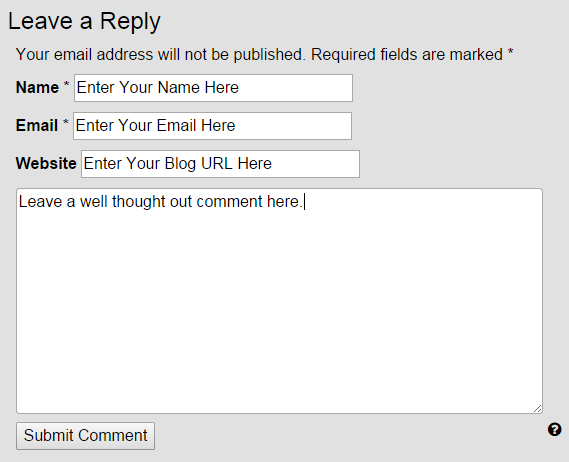 Free Blog Traffic Idea #2 – Setup a Facebook Fan Page
Most people have a personal Facebook page where they share updates, pictures and videos from their life but when it comes to their blog posts, most people are shy about promoting them on their personal page.
Why?   Well, in most cases your friends and family may not be interested in what you blog about.
For example, on my TabletopGamer.com blog, I blog about tabletop gaming but only a few of my friends and family that I have on my personal facebook page have an interest in this hobby.
So, in such situations what most people do is they hold back from promoting their blog posts on their facebook pages.
The solution to this is to setup a Facebook Fan Page specifically for you blog where you can feel free to promote every blog post you write!
This way you can invite people to your fan page who may be interested in following your blog content, and they can decide whether they would like to see your posts on facebook or not.
Here's a link to my Facebook Fan Page for this Blog.
You'll notice I promote all of my posts on there, and I never worry about whether people on there are interested or not because if the aren't they can simply "Unlike" my page and they won't see any more updates.
Over time, you can also start to develop a fan base on facebook which will deliver more free traffic to your Blog.
Free Blog Traffic Idea #3 – Write Guest Posts for Other Bloggers
Another way to get traffic for free to your blog is to write a high-quality guest post for another blogger.
Guest blogging is still a great way to get free traffic to your blog, no matter what the critics say.
The key, however, is to take the time to create a very high quality blog post and not just slap something together without effort or thought.
One of the reasons why so many bloggers turn away guest posts is because the majority of people who write guest posts write content that is just horrible.
A blogger is not going to ruin their blogs reputation by publishing a crappy guest post, so make sure your guest posts are your best work!
Don't be afraid of delivering your best work through guest posts.  It's a great way to introduce yourself to a new audience.
One of the strategies that I've used in the past is before asking a blogger if they would like a guest post, I'll first start reading their blog and participating in the comments and try to get a 2 way conversation going between them and I as well as between their audience and I.
When a blogger sees someone visiting their blog, reading their content, participating, leaving comments and having an honest, useful conversation, they are WAY more likely to accept a guest blog post from that person than if it's a total stranger that just hit them up with a guest post request.
Take the time to first build some relationships with the bloggers you'd like to guest post for, and get to know their audience as well so that can write content that would resonate with their audience.
Free Blog Traffic Idea #4 – Get on Google's Radar
If you're running a blog on a solid blogging platform ( I recommend Kalatu ), your platform should be optimized to be Google friendly.
You'll want to make sure that your blog posts are getting indexed by Google by having a proper sitemap setup and registered with Google Webmaster Tools.
You can also use this trick to get your blog posts indexed virtually instantly by Google.
If you're not sure if your blog is getting indexed by Google or how many pages are getting indexed, simply go to Google.com and search for "site:yourdomain.com" (without the quotes).
Do not put a space between "site:" and your domain, and obviously replace the text "yourdomain.com" with the domain of your actual blog.
Do not put a "www." beginning to your domain either, just everything after the "www."

Free Blog Traffic Idea #5 – Submit Your Posts to Social Bookmarking Sites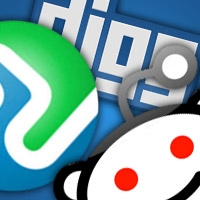 Another great way to get some free traffic to your blog is to submit your blog posts to social bookmarking sites, such as Digg, Reddit and StumbleUpon.
Make sure to visit these sites first, and get to know the different categories of posts on them so that you can determine which would be the best category to post your blog posts in.
Also, these three sites represent just a few of the social bookmarketing sites.
You can find an article with over 50 social bookmarking sites here.
Free Blog Traffic Idea #6 – Participate in a 21 Day Blogging Challenge
Another really cool way to start getting some free traffic to your blog is to participate in a 21 Day Blogging Challenge.
By participating in one of these challenges, you'll gain access to a private facebook group for 21 day challenge participants.
Each day for the 21 days you'll be encouraged to post and share you blog post for that day on this facebook group, and the other participants may decide to visit your blog and leave comments.
This strategy is especially effective if you combine it with Idea #1 and visit the blogs of the other challengers and leave comments on them.
You can even tell the bloggers that you are also participating in the 21 Day Blogging Challenge when you leave your comments, and there is a high chance that they might also reciprocate and pop by your blog and leave a comment as well!
Free Blog Traffic Idea #7 – Get Free Traffic From YouTube
Another absolutely amazing free traffic source is YouTube.
You can create simple YouTube videos which answer common questions or provide value to your target audience, and encourage people to visit your blog to get more value.
For example, I could create a YouTube video where I share the first three free traffic ideas from this blog post and then at the end of the video I could say something like "I hope you enjoyed these three traffic ideas, and if you'd like to get access to 4 more free traffic ideas, simply click on the link below to visit my blog where all seven free traffic ideas are revealed."
In this way you can capture some of the traffic from people on YouTube who are searching for an answer to a specific question, and offer them SOME of the value that you offer on your blog, but not all of it.
In order for them to get ALL the value, you encourage them to visit your Blog.
This is a very effective strategy that very few people utilize.
I highly encourage you try it out.
You can also encourage your blog readers to visit your YouTube channel and to subscribe in order to get additional content that they will not necessarily find on your Blog.
In this way you can build up your blog traffic as well as your YouTube channel traffic as well, and provide even more value to your readers.
If you'd like to check out and subscribe to my YouTube channel you can find it by clicking here.
If you enjoyed this blog post, do me a favor and take a moment to share it with someone you know!
Thanks!