So you've got a Blog.
And maybe you've even got a sitemap plugin installed.
And maybe you've even got that sitemap automatically sending a message to Google every time you write a blog post.
But are your Blog posts even getting indexed?
I currently run two blogs and I've been doing some experimenting with how Google indexes them differently.
On my main blog (this one) I blog daily, and have been doing so for almost 6 months now.
During that period of time my sitemap has submitted 188 pages to Google for indexing in the search engine.
On my second blog I have been blogging sporadically about once a week or so.
I had some older content that I moved to that Blog as a starting point, and so far I've submitted 47 pages to Google for indexing in the search engine.
Now take a look at this snapshot from these two blogs that I currently run: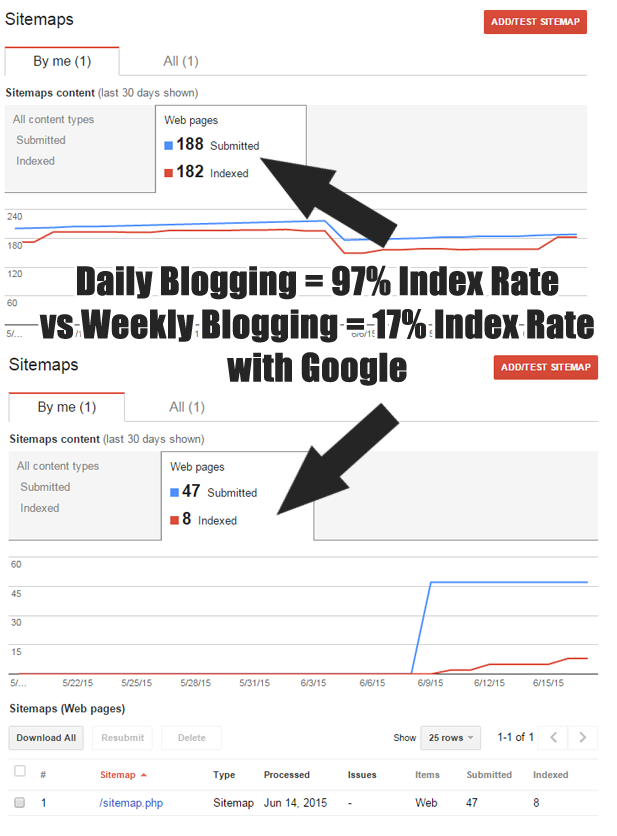 As you can see, on my main blog where I'm blogging daily, Google has indexed 182 out of the 188 pages I've submitted to them which means that they're indexing about 97% of my content.
On my other Blog, where I've been publishing a post about once a week, Google has only indexed 8 out of 47 posts so far, which means that they're only indexing about 17% of my content there.
That's a HUGE difference of 80%!
Now I'm not 100% sure why Google is only indexing about 17% of my content there so far, but the important question is – is Google even indexing YOUR site?
I see a lot of bloggers really confused about why they're not getting any traffic to their sites.
Look, if Google is not indexing all of your pages, then that means that those pages are INVISIBLE to anyone searching on Google.
It doesn't matter if you write the world's best blog post about a certain topic, if Google doesn't index it, then it basically doesn't exist in the Google universe.
You don't want that.
You want to make sure ALL of your content is indexed.
You work hard to write those blog posts, so why not make sure they're all indexed?
Now, a few days ago I wrote a blog post where I shared an easy strategy for making sure your blog posts get index really fast on Google, but if you're a Blogger I've got another question for you…
The tips that I share here on my blog are just a small tiny fraction of the tips and secret ninja strategies I share with my Empower Network team-mates.
The reason I bring this up is because I struggled for years to make any money with my Blog, until I hired and worked with a mentor.
Once I started working with a mentor, everything turned around for me because he was able to see my "blind spots".
He was able to show me what I was still missing, and what I wasn't paying attention to, and what things I was wasting my time on.
Do you have a Blogging mentor?
Are you plugged into the training that Empower Network provides for it's members?
Are you part of a team and do you have a mentor helping you on your blogging journey?
Or are you still trying to do everything on your own, using some kind of "free" blogging platform or some discount hosting service because you're too cheap to invest $25/month to join Empower Network and invest into your blogging business?
If you've been struggling to make it as a blogger, I invite you to join my Empower Network team.
You might be doing 95% of everything correctly, but just getting stuck on 5% that's blocking you from achieving success.
Having a blogging mentor and being part of a team might just be the missing piece for you.
If you'd like to join my team, click on this link and get signed up today.
See you on the other side.