Today I wanted to do a quick update on my diet and fitness plan, and more specifically to share my updated stats from my Aim Skulpt device.
For those of you who are not familiar with the Skulpt Aim device, it's basically a device that allows you to measure each one of your major muscle groups and test individual "MQ" scores for them.
Here's a quick chart which explains what "MQ" is.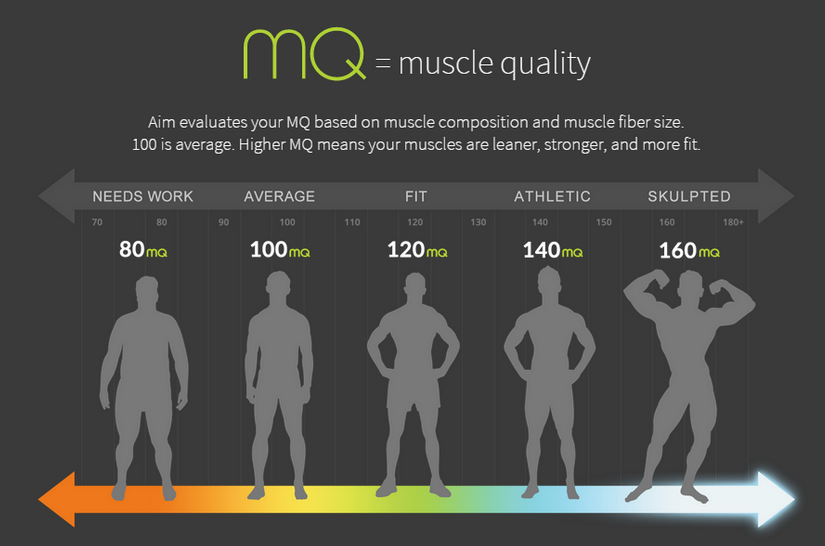 As you can see from the chart above, an MQ of 80 falls under the "Needs Work" category and looking at the silhouette of the person at 80 MQ we can tell they are obese, and on the other side of the spectrum we have an MQ of 160 which is someone who is completely skulpted, with an MQ of 100 being an average person.
The main benefit of using a device like this is that it allows you to see changes in your body composition which are more accurate and more specific than just weighing yourself on a scale.
I've taken two full body measurements so far with the Skulpt Aim.
The first measurement was taken on Day 1 of starting this plan, and the second measurement I took a few days ago on Day 100 of the plan.
Here is a side-by-side comparison of the two reports for the muscle groups on the front of my body.
As you can see I've had improvements in my "MQ" all across the board.
The MQ of my shoulders was 97 (right) and 99 (left) on Day 1, and now it's at 100 for both.
The MQ for my chest (pecs) was 98 (right) and 100 (left) on Day 1, and now it's at 101 (right) and 102 (left).
As you can see in the chart, pretty much every one of the numbers went up.
This makes sense to me because the biggest part of my plan so far has been focused around strength training with my personal trainer Sam.
Now, let's look at the stats from the back of my body: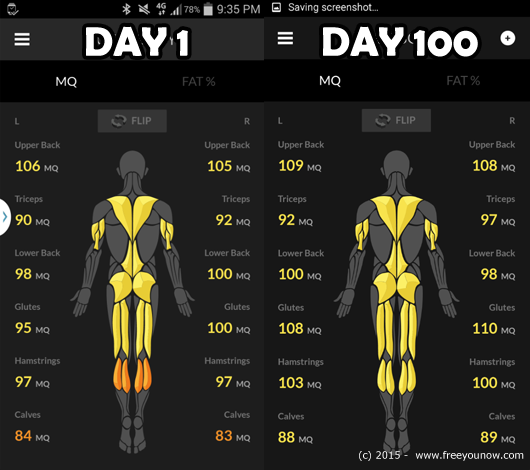 From the muscle groups in the back of my body, the biggest improvement showed up in my glutes as well as my calves.
You can see the exact numbers in the graphic above.
Now, the final chart I'll share is just the total body average snapshot between the two days.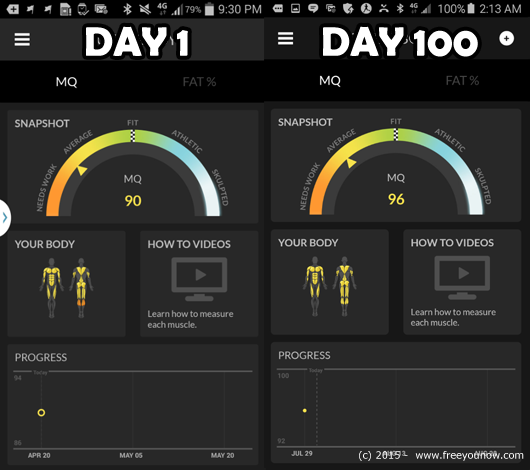 As you can see form the chart above, my average MQ for all the muscle groups was MQ 90 on Day 1, and as of Day 100 I was at MQ 96.
Now, some people may think to themselves "Yeah, but so what?  This device showed you that you had an MQ of 90 and now you're at 96… what does that tell you?"
Well, depending on what your goals are, to some people these numbers may seem insignificant.
For example, if someone was just looking to lose weight and wasn't doing any strength training, then tracking their MQ wouldn't probably be a useful measure.
You could simply just step on a scale and measure your weight and see how much weight you lost.
However, since I'm mainly focusing on strength training with my program right now, psychologically I need to track some sort of measure of progress BEYOND just my weight.
The reason for this is because building muscle kind of works against you in the beginning of a fitness program if all you're looking at is your weight.
Meaning, by doing strength training I'm actually building muscle tissue which is actually pretty heavy as compared to fat for example.
Therefore, let's say that I lose 3lbs of fat and gain 3lbs of muscle in a certain period of time, if all I looked at was the scale then my weight wouldn't even change.  There would be no difference.
And when we don't see any difference on the scale, we get demotivated!
However, if we could somehow measure that we've gained lean body mass, in addition to losing fat, then it becomes more motivating.
Now, technically we can measure total lean body mass by using body fat percentages, but with the Aim Skulpt device it just gives me that extra level of detail and tracking so that I can see how each individual muscle group is responding to my strength training program.
For a gadget geek like myself, this is uber cool stuff.
I love tracking stats and seeing graphs and sleek looking graphics, and if that's what I need to do in order to get myself motivated to work out, then that's what I'll do.
Based on the stats above I have to say I'm very pleasantly surprised.
During my first 100 days of strength training I've only done 14 one hour work out sessions with my trainer or on my own so far, which comes out to – on average – about one workout per week.
In addition to that I've also done quite a bit of yard work and landscaping outside as well, so I'm sure that contributed to this as well, but in terms of actual strength training workouts, I've only done 14 so far!
I definitely still have a long way to go, but I have already lost about 10lbs of fat, my clothes fit better and I'm feeling WAY stronger than I was when I started this journey.
If I can increase my average number of workouts to 1.25 or 1.5 or 2 or 3 workouts per week I'm sure I'll start seeing results coming in even faster.
But, even if I just keep doing what I've been doing so far, I'll still see results, it's just that they will take longer to achieve.
For the first time in my life though I've been CONSISTENTLY working out for more than 3 months in a row, which is super awesome, and I have to thank my trainer Sam from Ivanco Fitness for that. 🙂