Yesterday I wrote the new diet program I'm creating for myself called the Manifesting Body Diet.
Today I'm going to reveal the two platforms that I'll be using to track my progress.
Before I go into that, I want to explain why tracking is so important.
Whenever we set a goal that we want to achieve in our lives, we must find some way to quantify our journey towards that goal so that we we know whether we are getting closer or further away from it.
When it comes to weight loss and fitness, it's really important to track our progress so that we know whether the things we are doing are helping us to lose weight or not.
However, we also don't want to over-complicate the whole process and make it really difficult to track things either.
The more automated we can make the process, the better.
For the Manifesting Body Diet, I am going to be tracking the following metrics:
My food / drinks / supplements
My activity / heart rate / sleep 
My weight and body fat percentage 
The first two metrics allow me to track my "input" into the equation – meaning what I'm actually doing, and the third metric allows me to track the end result – ie. my weight and body composition.
So how am I tracking these?
#1 – Food / Drinks / Supplements Tracking
Over the years I've tried various different software packages for tracking my food / drink / supplement intake.
I've tried everything for writing it down in a journal, to a desktop software, to Excel spreadsheets, to using cell phone apps etc.
One of the most accurate methods of tracking your food intake is to use a software that allows you to track calories, fat grams, carb grams, protein grams, fiber grams, as well as vitamins and minerals inside the food.
It's a very accurate system of tracking, however the downside of it is that it is ridiculously time intensive to track all that food.
Trying to track calories and macro/micro-nutrient breakdowns like that would definitely be one of those things that would take energy away from me building my businesses – therefore it's a NONO, so I'm not going to be doing that.
However, I still want to track SOMETHING so that I can quantify which foods are creating which result in my plan.
After doing a bunch of research, I decided to use the new WeightWatchers online tracking system to track my daily food / liquids and supplement intake.
By doing this I am essentially leveraging decades of THEIR experience working with thousands of customers, instead of trying to re-invent the wheel myself.
Remember, one of y primary goals with the Manifesting Body Diet is to make it simple, easy and time-efficient so that I can focus more time on making lots of money with my business, instead of farting around with food tracking systems.
WeightWatcher's system seems to be doing the trick for me.  It's really simple.  Here's a screenshot from my tracker today:
Across the top you will see that Weightwatchers automatically calculated how many points I get to "spend" on food each day, based on the personal information I gave them like my weight, height, sex, and activity levels and my goals.
For me, they're starting me off at 49 points per day that I can spend on various foods.
Then, in addition to that I also get an additional 49 points extra per week to spend on other stuff if I want to, such as for example if I want to have a "cheat day" or "cheat meal" etc.
With their new points system, they're taking into account the fat grams, protein grams, carbohydrate grams, and fiber grams to calculate how many points a food is worth.
For example, a 355ml can of coke is 5 points.  Two slices of Dominos Pizza with the toppings I chose is 11 points.  Make sense?
It's basically very similar to calorie counting, except for a few differences.
Firstly, I think it easier and faster than counting calories because it's easier for me to remember that a can of Coke is 5 points rather than trying to remember that it's 160 calories.
Secondly, on this program any fruit and vegetables that I eat are worth ZERO points, which means I can have an unlimited amount of broccoli if I wanted to, or any other veggies and it would still be zero points.
If I was doing calorie counting, I'd have to track my fruit and veggie calories as well.  This makes it easier.
Thirdly with calorie counting, 200 calories worth of donuts is treated the same way as 200 calories worth of fruit for example, but they do not have the same nutritional value to the body, so reducing everything down into just the calorie content is too oversimplified in my opinion.
What Weightwatchers did is they took calorie counting and made it more simple, and also more effective by giving foods that are healthier for you a lower point value than foods that just give you empty calories.
The app also allows me to track my daily liquids, fruit & veggies, whether I took a multivitamin and my healthy oils intake.
Lots of cool tracking abilities, but also very simple and easy to use.
The system also integrates with the Fitbit platform to automatically pull activity data from my Fitbit tracker, and to award me with extra points on active days!
So for example if I walk 10,000 steps or more during the day, the system awards me with extra points I can use. 🙂
If you'd like to learn more about Weightwatchers, if you're in Canada click here, and if you're in the US click here.
Please note that I'm only using Weightwatchers strictly for their software and tracking system, but I have heard from people that their live meetings are also good.
I have no desire to go to weekly meetings, so I just use the online app for my Manifesting Body Diet purposes. 🙂
#2 – Activity / Heart Rate / Sleep Tracking
As far as tracking my activity levels, heart rate and sleep, I'm using the Fitbit Charge HR bracelet and website.
Here's a screenshot of what my activity levels look like: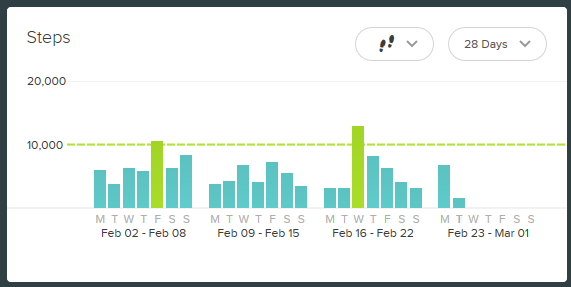 Here's the sleep tracking it shows me: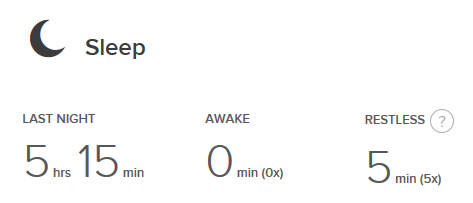 I don't have a screenshot of the heart rate tracker, but I do have that tracked as well.
Tracking activity is important so that you can measure progress and gauge how activity affects your results.
However, tracking activity can't be time intensive or take up too much energy otherwise you won't stick with it.
That's why I'm using the Fitbit Charge HR tracker because it tracks all that for me just by wearing it, and it automatically uploads all the data to the website when my wrist band comes close to my computer and calculates and graphs all that data.
Finally, the third thing I track is…
#3 – Weight and Body Fat Percentage Tracking
I have also completely simplified my weight and body fat percentage tracking as well.
In the past I've tried all kinds of tools and devices from calipers to DEXA scans to track my body fat percentage.
They all work with varying degrees of accuracy, but the challenge with all those different systems is that they all take up a lot of time to do the tracking / measurements.
What I'm using instead is the Fitbit Aria scale which handles everything for me.
I step on the scale in the morning when I first wake up, and the scale automatically measures my weight, body fat percentage and then when I step off, it automatically uploads that data to the Fitbit website where the system graphs my weight
It also graphs it for you automatically on a nice graph so that you can see your trends.
Here's my graph showing an upward trend of gaining weight over the last year or so:

Of course the goal of the Manifesting Body Diet is to LOSE excess body fat, not to gain it so I'm hoping to see that graph start changing direction very soon, but I just wanted to show you how easy it is to track your weight with a simple device that takes literally less than 10 seconds per day to track your weight and body fat percentage.
If you want to learn a bit more about the weight loss tech gadgets I've mentioned in this post, check out this blog post here.
So what about you?  What are YOU using to track your weight loss / activity progress?