Do you want to make your Blog posts easier to read?
There's a neat little tool called Hemingway Editor which you might like.
So what does Hemingway Editor do?
First of all, it can help you to avoid four common writing blunders which can make your content difficult to read.
The first blunder it can help you avoid is sentences that are either hard or very hard to read.
You start the process by either pasting in your Blog post text or by writing your post right inside the Hemingway Editor .
That's actually what I'm doing right now.
I'm typing this blog post right inside Hemingway Editor and it's analyzing what I'm writing in real time.
Here's a screenshot of what that looks like.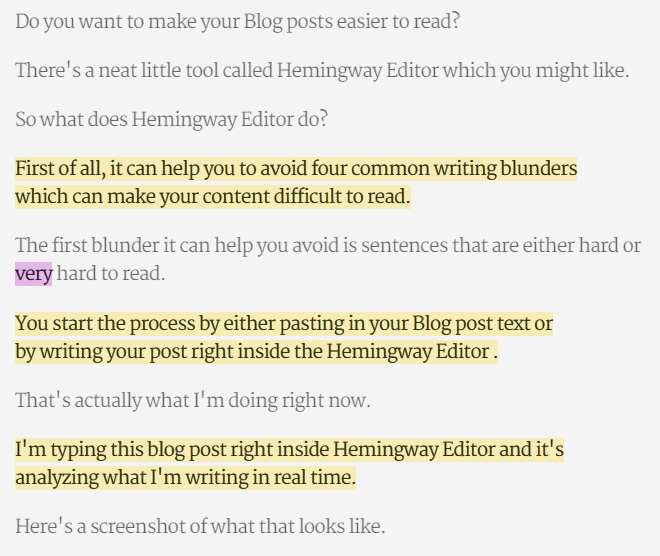 Neat, right?
The second blunder it can help you avoid are phrases that are difficult to understand. Meaning, using words that not everyone understands, when a simpler word can be used instead.
The third blunder it can help you avoid is the use of too many adverbs in your writing.
The fourth blunder it can help you avoid is using a passive voice in your posts too often.
The way the editor does all these things is simply by highlighting different words, phrases or sentences using different colors.
You can then decide how to change the words or sentences to make them easier to read.
Of course this tool is not perfect. It is not a human being, so it's only as good as the programming that went into it. However, even though the tool isn't perfect, it can be helpful for checking your Blog posts to ensure that they are easy to read.
All you have to do is just paste your content into the tool, and it analyzes the content instantly.
You can try it yourself at this link.
Finally the tool gives you two more indicators for your Blog posts.
The first indicator it gives you is your "Readability Grading". For example, this blog post has a readability grading of "Grade 6". Which means that the average Grade 6 student would have no problem reading this content.
If your posts have a grading of "Grade 12" for example, then you might want to simplify your writing style and your vocabulary.
Of course it all depends on who you are targeting with your Blog. If your target audience is University Professors, then a Grade 12 grading may be totally fine.
Finally, the last indicator is your blog posts stats. It tells you how many paragraphs, sentences, words, characters and letters are in your post. It also tells you the approximate reading time required to read your post.
Here are my reading stats for this post, as of this sentence: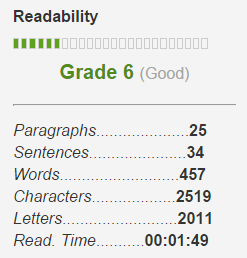 Pretty neat eh?
It might not be something that you have to use for every blog post that you write, but it might be a useful tool to use once in a while.
It's a free tool, and if you'd like to try it out, just click on this link here.
Enjoy!