I've been doing some meditating lately on where I want to take my Blog and my Blogging business.
One of my initial goals and intentions with this Blog has been to inspire and help 108 people to make a six-figure income working from home.
This is one of the reasons why I started doing blog income reports at the beginning of this year and continue to do them every month.
If you haven't seen my blog income reports, you can find them here for January, February, March and April.
By doing these income reports, among many other things,  I know that if I haven't already, I'll start to inspire some people to take something they're passionate about and build a Blogging business around it.
Today, however, I decided to take things to the next level.
I've decided to set my sights on the Empower Network Million Dollar Ring.
Here's a picture of what it looks like: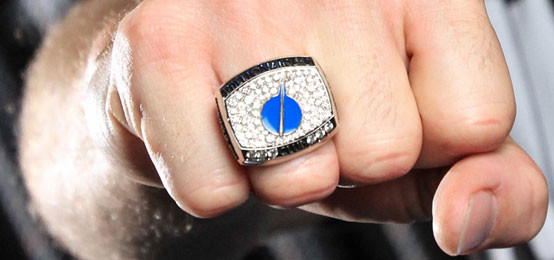 The Empower Network Million Dollar Ring is awarded to those in Empower Network who earn at least 1 million dollars in commissions.
In addition to that, I also want to help 9 others to get their Million Dollar Rings as well.
I know that by accomplishing this goal, we will most likely jointly help a LOT more than 108 people become 6-figure earners as well.
If you'd like to join me on this journey to earning your Million Dollar Ring, you can get started by clicking here.
(Notice: Results not typical.  See my income disclosure for more info.)